Published March 28, 2022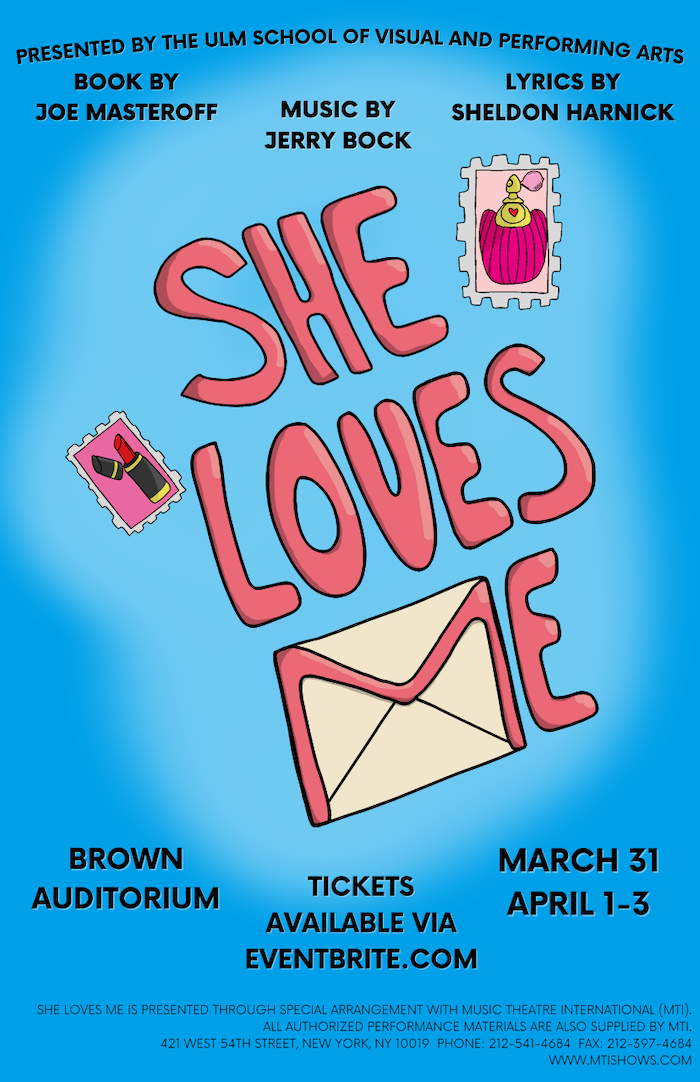 Want to go?
WHAT: VAPA's "She Loves Me" musical
WHEN: 7:30 p.m., Thursday, March 31; Friday, April 1, Saturday, April 2; 2 p.m., Sunday, April 3
WHERE: Brown Auditorium
COST: Free for ULM students with ID, $5 for ULM staff and faculty, $15 for general admission, tickets at Eventbrite
INFO: VAPA, 318-342-3811
The University of Louisiana Monroe School of Visual and Performing Arts invites you to view the musical "She Loves Me" March 31-April 3 in Brown Auditorium.
Showings will be Thursday, Friday, and Saturday, March 31-April 2, at 7:30 p.m., and a Sunday matinee, April 3 at 2 p.m. Tickets are free to ULM students, $5 for ULM faculty and staff, and general admission is $15. Tickets are available in the VAPA office, Biedenharn 105, and on Eventbrite.
"She Loves Me" is a musical with a book by Joe Masteroff, lyrics by Sheldon Harnick, and music by Jerry Bock. The plot revolves around Budapest shop employees Georg Nowack and Amalia Balash who, despite being consistently at odds with each other at work, are unaware that each is the other's secret pen pal met through lonely-hearts ads.
The ULM production staff includes director Justin Havard; music director Deborah Chandler, Ph.D.; technical director Steven Burnside; costumer Margaret Hall; stage manager Cherie Mialaret; and producer Derle Long, Ph.D., director of the School of Visual and Performing Arts.
Cast as principal characters include: Amalia Balash – Leslie Hobgood, Jenny Smith; Ilona Ritter – Leann Hammons; Head Waiter – Reagan Dukes; Arpad Laszlo – Keagan Jones; Mr. Maraczek – Westly Heflin; Mr. Keller/Customer/Caroler – Harper Innis; Georg Nowack – Brandon Hale, James Wright; Steven Kodaly – Preston Anderson; Ladislov Sipos – Nathan Newsom; and Ensemble/Customers/Clerks – Delaney Morgan, Naomi Kilpatrick, Sarah Talmage, Abigail McClung, Elise McCullough, and Mallory Spradling.
The dance ensemble includes: Gabriela Picón Barrios, Maria Picón Barrios, Kayli Bowman, Naomi Kilpatrick, Elise McCullough, Delaney Morgan, and Sarah Talmage.
The musical is the third adaptation of the 1937 play "Parfumerie" by Hungarian playwright Miklós László, following the 1940 James Stewart-Margaret Sullavan film "The Shop Around the Corner" and the 1949 Judy Garland-Van Johnson musical version "In the Good Old Summertime." It surfaced again in 1998 as the Tom Hanks-Meg Ryan feature "You've Got Mail."
"She Loves Me" is presented through a special arrangement with Music Auditorium International. All authorized performance materials are also supplied by MTI.
For more information, contact VAPA at 318-342-3811.