Pi Sigma Alpha, National Political Science Honor Society
Π Σ Α or PSA: Pi Sigma Alpha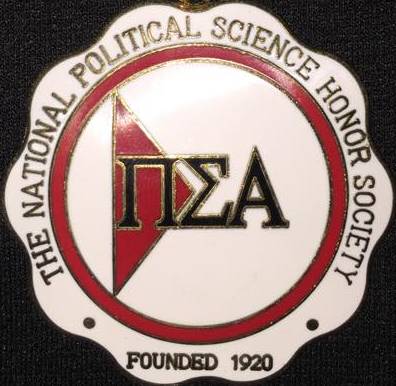 The first chapter of Pi Sigma Alpha was founded in 1920 at the University of Texas at Austin, and the society has
grown over the years to over 700 chapters (as of 2012). Pi Sigma Alpha was chartered at the University of Louisiana at Monroe in 2010. The idea that underlies honor societies in any American college and university is threefold. First, they exist to recognize the attainment of scholarship of a superior quality. Second, they recognize the development of leadership qualities, character, and good campus citizenship. Third, and to the degree that they make this recognition a thing to be coveted, they encourage the future production of superior scholarship and leadership. Pi Sigma Alpha is no exception to this rule. 
Pi Sigma Alpha (PSA), the National Political Science Honor Society, is the only honor society for college and university students of political science in the United States. Its purpose is to recognize and promote high academic achievement in the field of political science.
"It is a privilege to become a member of Pi Sigma Alpha. ULM has prepared me to be among the best students of political science in the United States" -Gabriel Silva, former ULM Pi Sigma Alpha President 
Acceptance Requirements:
For undergraduates to join, completion of ten semester-credits or fifteen quarter-credits in political science, including at least one upper-division course, with an average grade of B or higher in all political science courses, and an overall GPA placing the student in the top one-third of his or her class. 
For more information please visit: