Warhawk Express Card
The WARHAWK EXPRESS CARD brings you convenience AND security!   Your ULM ID Card becomes your WARHAWK EXPRESS CARD simply by rolling a portion of your refund to your Warhawk Express account and then you can start enjoying the convenience of cash-free purchasing power on and off-campus!
How does this work?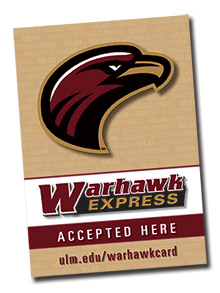 Students with AUTHORIZED financial aid may deposit funds each semester, to WARHAWK EXPRESS, and have funds available a few days before classes start by following two easy steps:
Prior to the regular session fee payment deadline: Students may add up to $500.00 on-line through https://banner.ulm.edu.
After the fee payment deadline: Students are required to come in to Warhawk ID Services or Student Account Services.


**Students are responsible for ALL funds expended regardless of circumstances. These funds may not be included in appeals or any other process seeking restitution.


Students without AUTHORIZED financial aid may add an UNLIMITED AMOUNT to their WARHAWK EXPRESS at any time during the semester by:
Students are encouraged to go to the Warhawk Express Self-Service portal.

Note: ULM now has a new portal, use your myULM/email username and password at the portal login screen prompts.


Parental Note:  To sponsor adding funds to a Student account, the sponsor (parent, etc.) must know the respective 8-digit CWID of the Student.  Enter those 8-digits + an ending 0 for a 9 digit format, ex:  123456780; then the 1st three characters of the legal firstname.  Due to privacy, sponsors are not able to view account usage or other details.


Or if needed, simply go by LaCapitol Federal Credit Union, and pay by cash or check the amount they would like to add.  Then come visit us at Warhawk ID Services and have the funds applied to their WARHAWK EXPRESS Account.


The above methods can used by ULM Faculty and Staff.
What are the benefits?
Convenience - You no longer have to fumble for bills or change to pay for your snacks in the Convenience Store, Books and Supplies in the Bookstore, refreshments at the concession stands at athletic events or for anything sold at our participating merchants. 
Security - It's safer than carrying cash and since your photo and encoded identification number are encrypted on your ULM I.D. Card, it's almost impossible for someone else to use your card.
Flexibility - It provides the flexibility you deserve.   
Money Management - It is an excellent money management budgeting tool helping you plan for your school-related purchases.
It also helps supplement your Meal Plan Flex Dollars when your Flex balance is low.
Will My Account Remain Active From One Semester to the Next?
Your WARHAWK EXPRESS balance will roll from one semester to the next, and continue to do so as long as you are enrolled at ULM. The University will deactivate accounts not used during a 120-day period.  Reactivation simply requires a visit to the Warhawk ID Office.
How Can I Keep Track of My Transactions?
Transactions are recorded by time, date, location, and amount. Account statements are available the following business day at the Warhawk ID Services Office.

Off-Campus
5 Star Beauty and Gallery
301 Sterlington Road
Monroe, LA
Azteca Mexican Grill
3610 Desiard Street
Monroe, LA
Catahoulas Restaurant
5321 Desiard Street
Monroe, LA
Catfish Charlie's
2329 Louisville Ave.
Monroe, LA
CVS Pharmacy
1710 Louisiville Ave.
Monroe, LA
Dairy Queen
1600 Sterlington Rd.
Monroe, LA
Domino's Pizza
1405 Sterlington Rd.
Monroe, LA
Fiesta Nutrition Center
1211 North 18th St.
Monroe , LA
Fit4Life
2399 Ferrand St.
Monroe, LA
Hair Galleria
1313 Winnsboro Rd.
Monroe, LA
Kravins
700 Winnsboro Rd.
Monroe, LA
Lux Beauty Supply
1310 Sterlington Rd.
Monroe, LA
Newks Eatery
2320 Tower Dr.
Monroe, LA
Papa John's
2820 Louisville Ave.
Monroe, LA.
Phirst Impression Menswear
7913 Desiard St., Ste. E,
Monroe, LA.
Portico
2230 Tower Drive
Monroe, LA
Raising Cane's
2761 Louisville Ave.
Monroe, LA
University Nutrition
4000 DeSiard St.
Monroe, LA
Wendy's
1004 Sterlington Rd.
Monroe, LA
Wingstop
2340 Sterlington Rd.
Monroe, LA
Zaxby's
1608 Hwy. 165 North
Monroe, LA
On-Campus
University Bookstore
Schulze Cafeteria
Starbucks
Library P.O.D.
Convenience Store
SUB locations
Subway, Chik-fil-A, Einsteins Bros. Bagels, Grill Works, etc.
Vending Machines
Snacks
Washers & Dryers
Residence Halls
You can use your Warhawk Express at a number of locations both on and off campus. Please see the list on this page!
Can I Take Cash Out?
No, you cannot take cash out. You can only make deposits to your account. Your purchase amounts are deducted from your account and your remaining balance is displayed at the register.  Cash refunds are not made for returned merchandise. A credit will be made to your account for the value of the returned merchandise within (5) business days from the time the merchandise is returned.
What if I lose My Card?
If the card is lost or stolen, sign into the Warhawk Express Portal and immediately shut off card access.  At your earliest convenience, contact Warhawk ID Services at 318-342-5002 or by email at idcard@ulm.edu for a replacement card.  
There is a replacement charge of $15.00 for cards lost, stolen, or damaged.  For your protection this card is non-transferable and its use is restricted to the person whose photo and signature are on the card.  You may not lend your card to anyone or ask them to purchase items for you with your card.
Terms and Conditions: Warhawk Express
1. Minimum to open a Warhawk Express Account is $25.00. Minimum deposit is $5.00. Maximum deposit is $1,000.00.
2. Warhawk Express balances will be carried forward from semester to semester until a student graduates or withdraws (resigns) from ULM.  Following the withdrawal ("W") date each semester, refunds are made only in writing at the Warhawk ID Services Office. There is a $10.00 processing fee when closing an account. Refunds are processed through Higher One and refunded according to the option you selected. Partial refunds of balance are not made. NO CASH WITHDRAWALS PERMITTED AT ANY TIME.
3. Lost or stolen card account balances cannot be protected until card is reported lost or stolen and invalidated by the Warhawk ID Services Staff. Only the balance at the time the card is reported missing and is invalidated can be protected.
4. Faculty/Staff balances will be carried as long as the individual remains employed.
5. Cash refunds are not made for returned merchandise. A credit will be made to your account for the value of the returned merchandise within five (5) business days from the time the merchandise is returned.
6. Warhawk Express accounts can be opened at any time. After fee payment, new accounts will be opened and deposits to existing accounts will be taken at LA Capitol Federal Credit Union or by using the portal.  Deposits to accounts will normally be available the same business day.
7. Future changes in terms and conditions regulating use of this card will apply to all cards in circulation and use at that future date and will supersede the terms and conditions in effect at the time the card was acquired.
Mailing Address:
The University of Louisiana at Monroe
Warhawk ID Services
700 University Ave.
Monroe, LA 71209-5500
Campus Location:
Warhawk ID Services
4031 Northeast Drive
University Commons II
Phone: 318-342-5002
Questions can be emailed to: idcard@ulm.edu