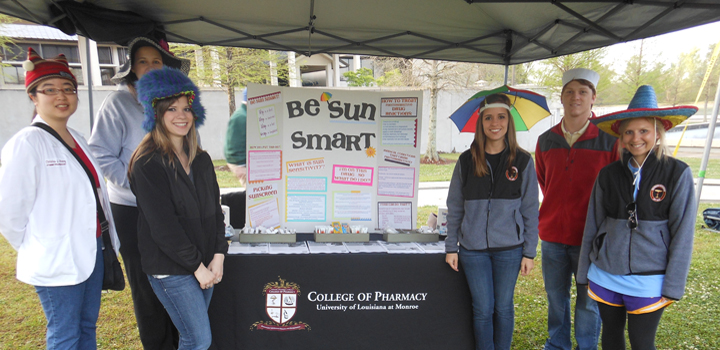 Welcome to the ULM Chapter of Louisiana Society of Health-System Pharmacists
Our chapter is a student affiliate of LSHP, as well as a recognized student society of the American Society of Health-System Pharmacists (ASHP).  As members of the ULM Chapter of LSHP, students are also members of the regional organization, the Northeast Louisiana Society of Health-System Pharmacists.
The ULM Chapter of LSHP was formed to advance interest in health-systems pharmacy among student pharmacists, to provide leadership and clinical skills development opportunities through community outreach and professional development initiatives, and to promote interest in postgraduate pharmacy residency programs by providing student pharmacists with information and resources relevant to ASHP-accredited residency programs.  The vision of our society, in conjunction with ASHP Pharmacy Student Forum, is to grow and develop a community of student pharmacists prepared to lead the profession of health-system pharmacy to excellence.  We dedicate ourselves to achieving excellence by creating a rewarding membership experience through:
Anticipating student needs and delivering student relevant information, tools and resources consistent with ASHP and LSHP priorities
Addressing the needs of student pharmacists with respect to health-system pharmacy career, professional and leadership development
Representing the collective voice of student pharmacists regarding health-system pharmacy issues in Louisiana
If you have any questions about the ULM Chapter of LSHP, please contact us at ulmlshp@gmail.com
Mission Statement
The mission of the ULM Chapter of the Louisiana Society of Health-System Pharmacists is to make students aware of pharmacy practice in health systems; provide information to students about career directions in and credentials needed for pharmacy practice in health systems; and encourage membership and participation in the state society and ASHP as a student and upon graduation.
Current Projects
During the fall semester, the ULM LSHP student chapter raised money by hosting a kickball tournament that doubled as a morale booster for students and faculty. Faculty and students had excellent participation, and the tournament was a great success.  We also had seven teams participate in the annual ASHP Clinical Skills Competition. Monica Hartman and Tina Melancon were declared our local chapter winners and represented ULM during the ASHP Midyear Clinical Meeting in Las Vegas.  ULM had a total of sixteen students and several faculty members attend the meeting in support of their colleagues and classmates.  They also presented a total of ten posters at the meeting.
During this current semester, we promoted skin cancer awareness and prevention at the 1st Annual Lauren Savoy Olinde (LSO) Foundation Hat Run in Baton Rouge.  This foundation was started in honor of ULM College of Pharmacy graduate, Lauren Savoy Olinde, who peacefully passed away on January 21, 2012 after a long battle with melanoma. At the event, our group presented information on sunburn prevention, phototoxicity, and drug-related sun-sensitivity issues.  We were able to educate and distribute sunscreen samples to more than 200 attendees.  The experience was very rewarding and LSHP will strive to continue participating and supporting this foundation in the future.