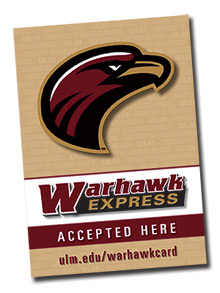 Your ULM ID Card and Affiliated Activities
Your ULM ID Card is the official University of Louisiana at Monroe identification card for students, faculty, staff and affiliates. It is also a meal card, an activities and events card and a stored-value gift card. Once issued, the card remains active as long as you are enrolled or employed at ULM.
The two declining balance accounts associated with your ULM ID Card are Warhawk Express and Flex Dollars. Warhawk Express works like a gift card. Depending on your needs, you deposit an amount of money into your account.
Every time you make a purchase, the purchase amount is automatically deducted from your account. Your remaining balance will be displayed to let you know how much you have left in your account.
Flex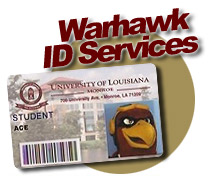 Dollars are declining balance accounts tied to your meal plan available for use at all on-campus dining facilities and off campus at Papa John's.
Warhawk Express is automatically activated when you add money to your Warhawk Express account.
You may deposit money to it via banner before the Fee payment deadline or anytime by contacting Student Account Services, Warhawk ID Services,  or LA Capitol Federal Credit Union.
Warhawk Express funds roll from semester to semester as long as you are enrolled and accounts are refundable at the end of any semester upon official withdrawal or when a cardholder severs their relationship with the University.