---
Fall 2021 Ceremony - Saturday, December 11, 2021
Separate ceremonies planned for the four colleges
8:30 a.m. – College of Health Sciences
11 a.m. – College of Arts, Education, and Sciences
2 p.m. – College of Pharmacy
4 p.m. – College of Business and Social Sciences
 
Commencement ceremonies at the University of Louisiana Monroe are planned for Saturday, Dec. 11, with four separate ceremonies for each college.
All ceremonies will be in Fant-Ewing Coliseum.
The university implemented individual college ceremonies earlier in the COVID-19 pandemic for campus and community health safety and to follow state regulations limiting capacity. Although there are no state regulations at this time, the university will continue having separate commencements for those participating and their guests.
Everyone must wear face masks and practice social distancing. Disinfecting wipes and hand sanitizer will be provided.
For those who cannot attend, live streaming of the separate ceremonies will be available on ulm.edu.
Details regarding this ceremony are fluid and are subject to change. For questions, contact the commencement committee at commencement@ulm.edu. 
---
It's Time To Celebrate!
GIPHY
Search #ULMGrad on Facebook, Instagram, and Snapchat to find the perfect GIF or sticker to celebrate your big day!
Facebook
Add a Facebook frame to your profile!
---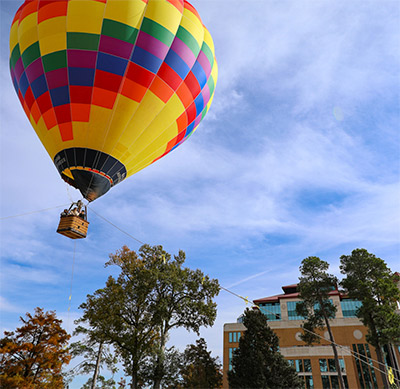 A Time to Reminisce...
Take a look back at your time at ULM. Remember the walks along beautiful Bayou DeSiard, your PREP session, or receiving an award for your hard work. Maybe you were one of our many online students and are planning your first visit to campus. Our photo gallery chronicles life at ULM, on the playing fields, in the classroom and in the community. Explore the gallery site. Below are a few of our favorite links. 
Photo Galleries:  Warhawk Life | PREP | Photos of the Week