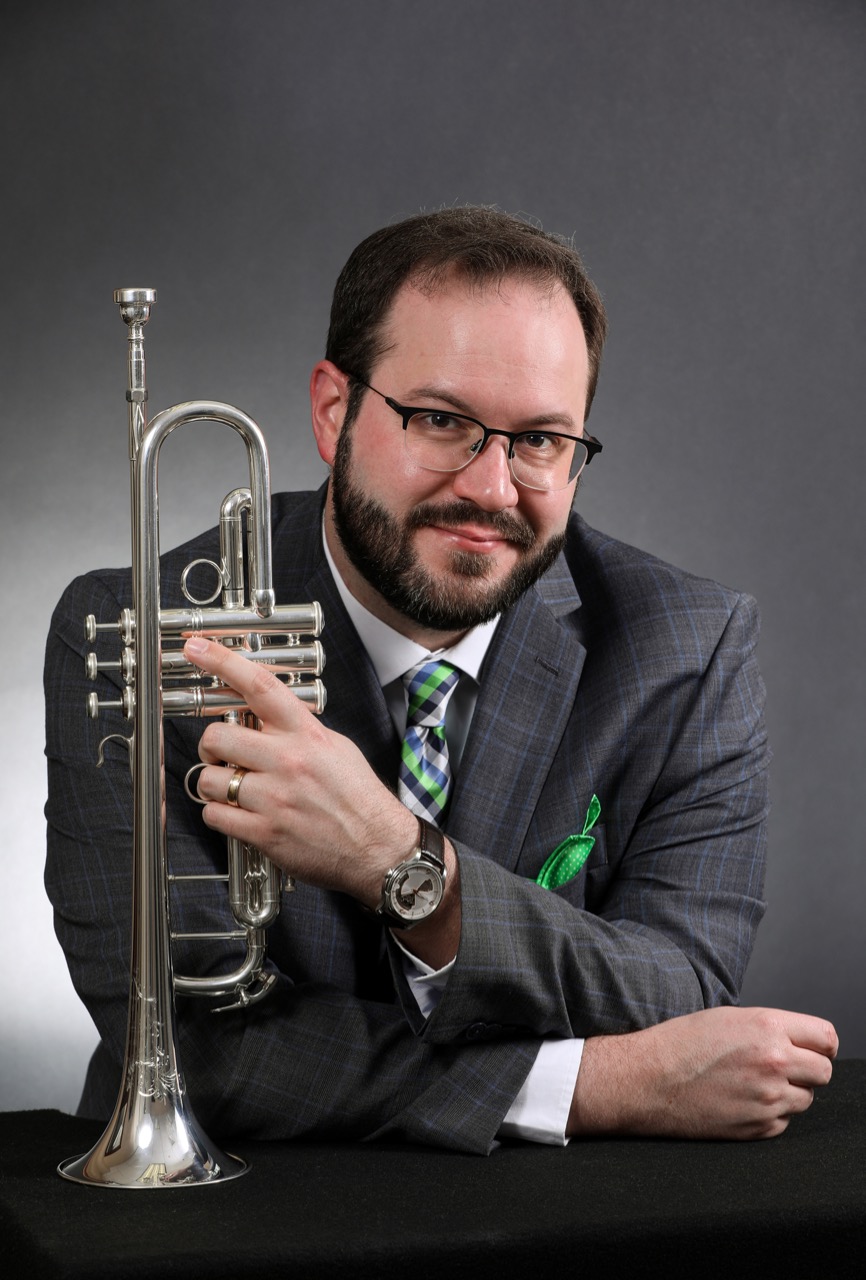 Dr. Eric Siereveld, Assistant Professor of Trumpet at the University of Louisiana at Monroe has built a reputation as a multifaceted performer, composer and educator. A veteran of the New York City music scene, Professor Siereveld's previous teaching positions include Instructor of Jazz Trumpet and Director of the Afro-Cuban Jazz Ensemble at the University of Wisconsin's Mead-Witter School of Music (2014-17) and Instructor of Trumpet at the United Nations International School (2017-18). He holds a Doctorate in Trumpet Performance from the Mead-Witter School of Music at the University of Wisconsin - Madison, a Master of Music in Jazz Studies from the Jacobs School of Music at Indiana University, and a Bachelor of Music Education degree from Morehead State University. His primary teachers include Greg Wing, Joey Tartell, William Adam, and John Aley.
As a performer, Dr. Siereveld enjoys a diverse career as an in-demand performer and freelance musician. Siereveld served as the Principal Trumpet of Bronx Opera for two seasons and as Assistant Principal for the Bronx Orchestra from 2012-2014. He has been a member of the Mad-City Brass Quintet, Brass Knuckles Brass Quintet, Gotham City Brass Quintet, and was/is a regular sub for the Monroe Symphony Orchestra, Shreveport Symphony Orchestra, Isthmus Brass, Sheboygan Symphony, Bluegrass Wind Ensemble, and Sacred Winds. Siereveld's Broadway tour credits include; Young Frankenstein, Elf: The Musical, The Addams Family (International), and Nice Work if You Can Get It. In 2013, Dr. Siereveld was lead trumpet for the Elf: The Musical at The Kennedy Center for the Performing Arts, and a member of the orchestra for the Broadway productions at Madison Square Garden in 2015 and 2017. He leads his small groups, most notably his quintet called "The Organic Quintet," and the hard bop dedicated sextet, "The Usual Suspects." In the summer of 2016, he performed with the Denver based band "The Radio" at the Democratic and Republican National Conventions in Philadelphia and Cleveland. In addition, he has shared the stage with Freddy Cole, Frank Sinatra, Jr., The Temptations, Don Rickles, The Big Payback, Dave Stryker, and many others.
Professor Siereveld's jazz compositions and arrangements are deeply influenced by the hard bop/post bop tradition. His most recent project, The Organic Quintet, is a fresh take on the classic organ jazz quintets of the 1960's. This group features NYC guitarist Jonathan Kreisberg, Indianapolis organist Steve Snyder, Madison based tenor saxophonist Tony Barba and Milwaukee drummer Mitch Shiner. Eric Siereveld's The Organic Quintet's debut recording titled "Walk the Walk," has received critical praise. Carlo Wolff of Downbeat Magazine stated, "Eric Siereveld updates the soul-jazz of the 1960s and 1970s on Walk The Walk, an eight-tune nod to bop en route to funk. One might compare Siereveld—on trumpet and flugelhorn—and saxophonist Tony Barba to Horace Silver frontmen Blue Mitchell and Junior Cook; they evoke a similarly dramatic flair. But the bandleader's bite and swagger... set apart the debut of Eric Siereveld's Organic Quintet." "Walk the Walk" was released in February 2018 on the Shifting Paradigms Records label and has been featured on jazz organist Joey DeFrancesco's Sirius XM show, Organized.

An active educator, clinician and adjudicator, Dr. Siereveld has led several masterclasses and clinics all over the country and been an adjudicator/clinician for the National Trumpet Competition, International Trumpet Guild Convention. His published works include his book series "A Modern Approach to Improvisation," is in it's third volume and features jazz trumpeters Alex Sipiagin, Jim Rotondi, and Scott Wendholt. Siereveld is an active member of the International Trumpet Guild, Jazz Educators Network, American Federation of Musicians (Local 802), and was a founding member of Bugles Media Publishing. Dr. Siereveld is a proud endorsing artist for Bach Trumpets, Torpedo Bags, Wallace Brass, and is a The Silencer endorsing artist.