Published November 15, 2016
MONROE, La. — The University of Louisiana Monroe's English program hosted its annual Best Freshman Essay Awards Ceremony Monday, Nov. 14 at 5 p.m. in the media room on the 6th floor of the university library.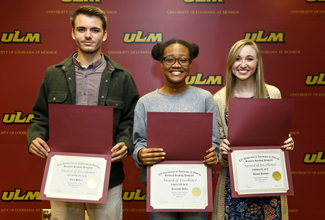 This essay contest is held each fall for English 1001 students to demonstrate their writing abilities and creativity.
Essay submissions are from the first essay that freshmen students write in Composition I. The essays are written based on a unit taught alongside Writing Today and the summer reader "This I Believe" (essay selections from NPR).
Students submit their narrative essays for judging by composition instructors. The judges look for creativity, a resounding message and writing level. 
"We look for someone's soul on paper. It's essential for students to showcase their talents, to know they have a voice, to be recognized," said Meredith McKinnie, Director of First Year Composition. The top three essays were awarded prizes. 
The award ceremony provides appreciation and recognition for the students' hard work. "This contest recognizes collegiate writing and the power of storytelling," said Vanelis Rivera, English Instructor in the School of Humanities.
Past winners have continued to succeed by becoming leaders for their peers and being active in other ULM groups on campus.
This year's winners are as follows:
First place: Princess Ayika for her essay titled "The Color of My Skin is Not Me." Ayika recounts two isolated experiences involving two elderly white women that influenced her perspective on having dark skin.
Instructor: James Petit 
Second place: Even Hebert for his essay titled "Blind Hysteria." Hebert narrates the struggles of engaging in domestic tasks as a blind man with eloquent humor and insight.
Instructor: Meredith McKinnie 
Third place: Allison Jackson for her essay titled "Another Day Another Dog." Jackson playfully recounts a chance meeting with an Old English sheepdog, which exemplified her "whole life."
Instructor: Jaleesa Harris 
This I Believe is an international organization engaging people in writing and sharing essays describing the core values that guide their daily lives. Over 100,000 of these essays, written by people from all walks of life, are archived on the NPR website, heard on public radio, chronicled through NPR's books, and featured in weekly podcasts.  
For more information on This I Believe, visit thisibelieve.org. 
For more information on ULM's Summer Reading Program, visit ulm.edu/summerreading.