Published November 9, 2016
MONROE, La. — A group of University of Louisiana Monroe students led by Dr. Pamela Higgins Saulsberry, interim director of the ULM's School of Behavioral and Social Sciences, participated in a service learning project at Carroll Junior High School in Monroe during the month of October.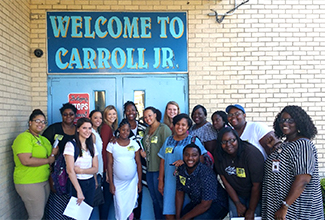 Saulsbery's Human Behavior and the Social Environment social work class was involved in the project at the request of the staff at the St. Francis school-based Health Center.
The goal of the project was to increase the student's understanding of the importance of self-esteem, self-efficacy and peer-to-peer communication, as well as adolescent and adult communication.
ULM students participating in the project created surveys on self-esteem and communication for the students in three seventh and eighth grade P.E. classes. The survey results were later collected, analyzed, and put in presentation format to be presented to 100 students in three classes over a three-day period.
"This service learning project was educational for both the ULM and Carroll Junior High school students and provided the ULM students with an exceptional opportunity to serve the community and positively impact the lives of young people," said Saulsberry.
To learn more about ULM's Social Work program, visit ulm.edu/socialwork.