Published June 28, 2016
MONROE, La. — The President's Academy at the University of Louisiana Monroe concluded its fifth year as a premier academic and career exploration camp for high-performing academic students.
The President's Academy partners with regional employers to give students a real-world experience in their chosen career path. Career paths include law, computer science, medical science, and physical science. 
"It has always been my intent to bring the best and the brightest to Monroe to work with our business partners and to see what our region has to offer," said ULM President Dr. Nick J. Bruno. "We are interested in making sure that high school students will be exposed to careers through hands on experiences."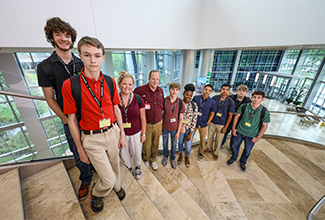 Companies participating in the academy were CenturyLink, University Health Conway, St. Francis Medical Center, P&S Surgical, Escamilla and Poneck LLP, ANGUS Chemical Company, and Ouachita Council on Aging. 
On campus, students were given a well-rounded college experience in course lessons and lectures, with lab experiments to accompany what they learned in the classroom.
Along with attending multiple lessons, students take their in-class and externship experience, and are divided into "X-Teams" to develop a solution and action plan to combat a fictional pandemic, which is presented to them at the beginning of the academy. 
Students use their knowledge to create a solution to their project, and then present to a panel of judges on the final day of the academy.
The winning presentation group receives a scholarship that is applied to their upcoming semester at the university. 
Students receive a one-hour college credit from attending the academy.
This year's academy welcomed 56 students from the Louisiana, Mississippi, Texas, and Arkansas areas.
"We hope the President's Academy helps students cement their career decision," Bruno said. "I want to encourage the students to continue the great work they have already done."
For more information about the President's Academy, visit ulm.edu/presidentsacademy. 
President's Academy Participants: 
Jay Butler, Kyla Mccall, Logan Nunnery, Emma Orman, Mathew Ferris, Margaret Britton, Jenna Patterson, Trey Simpson, Taylor Moses, Aaron Wilson, Evan Herbert, Abigail Gardner, Nishiana Heard, Connor Casadaban, Nicholas Peno, Jude Aguillard, McKenna Kicey, Alexandra Holliday, Laine Keel, Lauryn Smith, Meghan Patton, Nathaniel McDavid, Megan Guilbeau, Hannah Sullivan, Daven Sipe, Benjamin Allen, Nicholas Saccaro, Kashalai Crockett, Logan Kitelinger, Kallia Cooper, Kristen Clement, Presley White, Michael Villordon, Laken Hancock, Caroline Moeller, Tucker McCann, Quinn Gordon, Bas Hollingsworth, Cleveland Lavalais, Jenny Bond, River Gordon, Sophia Thomasson, Mac Duncan, Shannon Johnson, Alden McCollum, Gerson Uriarte, Chloe Nelson, Derilyn Flanagan, Emma Simpson, Henry Nguyen, Keonna Breux, Lauren Ducote, Trenton Solieau, Krystn Bondad, Savannah Wise, Mathew Christian, Keira Johnson, Paige Sheffield, and Laysen Landrum.