Published March 11, 2018
The University of Louisiana Monroe Campus Activity Board's annual Spring Fever Week will kick off with a performance by Atlanta-based rapper, 21 Savage.
"The amount of excitement that will be created will kick off Spring Fever with a bang," explains Amber Crawford, CAB's Concert Committee Chairperson.  "Students have been wanting a real hip-hop artist for a while, so I'm glad to a part of bringing an artist they want, love and voted for."
The concert will take place in the Fant-Ewing Coliseum with doors opening at 7 p.m. and the show beginning at 8:00 p.m.
Take advantage of early-bird prices through March 23rd and will increase afterward. For tickets:
For more information, contact 318 342-5287.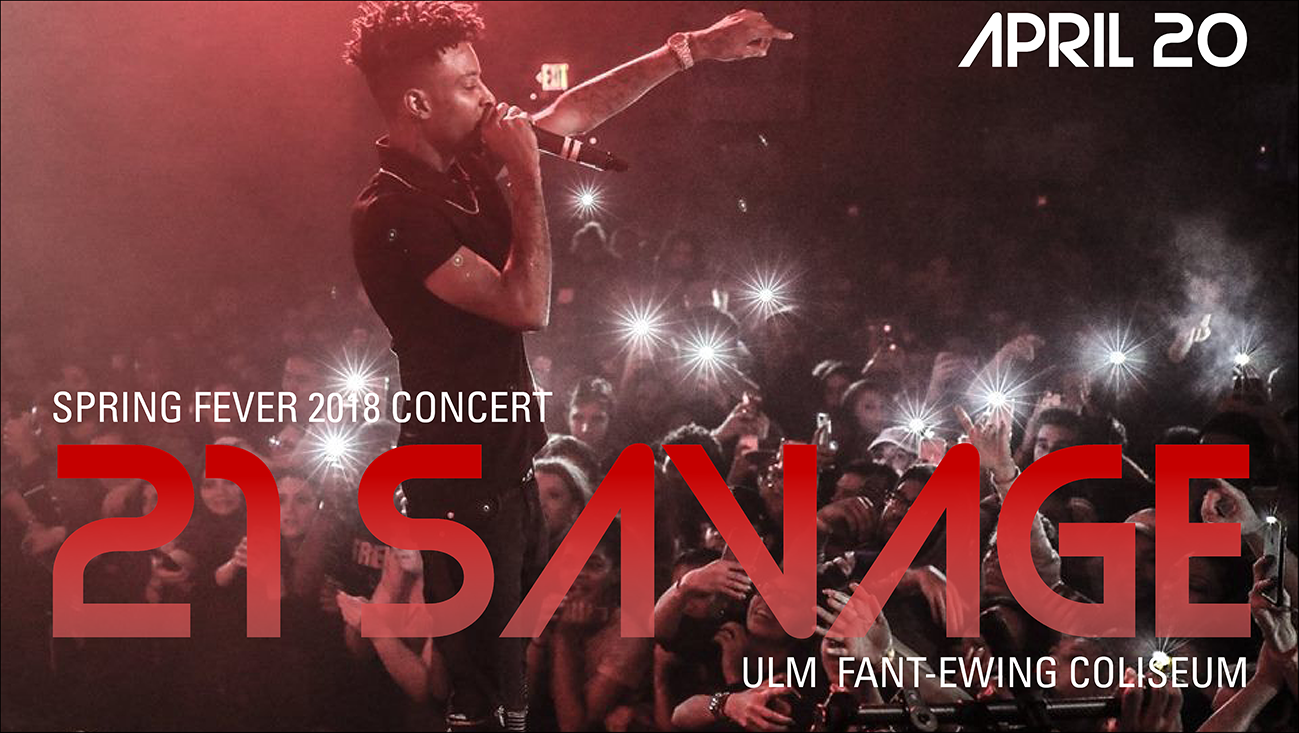 About 21 Savage
The Dominica native made his debut in 2014 with his hit single "Picky." One year later, his collaborative EP, "Savage Mode" peeked into the top 25 of Billboard 200 and landed number seven in Rap Albums of the year.


Savage has collaborated with music moguls such as Drake, Post Malone and Metro Boomin'.. His most notable songs are "Bank Account", "Nothin' New", and "No Heart." He is also currently is nominated for "Best New Artist" in the 2018 BET Awards and "Best New Hip-Hop Artist" in the iHeartRadio Music Awards.
For more information, http://www.21savage.com/
About Campus Activity Board:
ULM's Campus Activities Board (CAB) provides a host of activities and events for ULM students that foster social, recreational, and leadership development. It is a student-led group tasked with promoting and increasing campus life through events, concerts, Spring Fever, Homecoming, and many more.  
For more information, https://www.ulm.edu/studentlife/cab.html