Published Nov. 30, 2021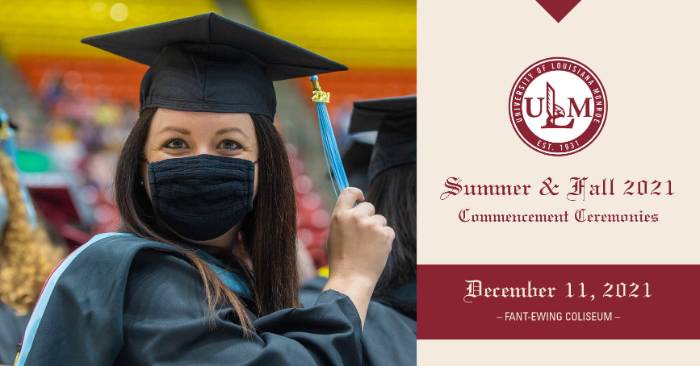 ---
ULM Commencement ceremonies for Saturday, Dec. 11
(All ceremonies will be in Fant-Ewing Coliseum)
8:30 a.m. – College of Health Sciences
11 a.m. – College of Arts, Education, and Sciences
2 p.m. – College of Pharmacy
4 p.m. – College of Business and Social Sciences
---
The University of Louisiana Monroe will host four commencement ceremonies on Saturday, Dec. 11, for the summer and fall 2021 graduates.
The ceremonies are by college and will be in Fant-Ewing Coliseum: 8:30 a.m. – College of Health Sciences, 11 a.m. – College of Arts, Education, and Sciences, 2 p.m. – College of Pharmacy, and 4 p.m. – College of Business and Social Sciences.
Each commencement ceremony will include President Ron Berry and the college deans, with special guest speakers addressing the graduates, their families, and friends.
College of Health Sciences – 8:30 a.m.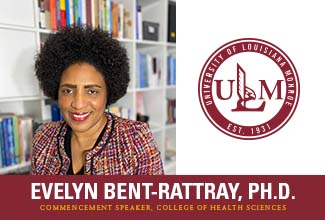 Evelyn Bent-Rattray, Ph.D., a 2020 graduate of the ULM Marriage and Family Therapy doctoral program, will be the guest speaker at the College of Health Sciences Commencement Ceremony.
Bent-Rattray holds a B.S. in Counseling from Northern Caribbean University in Manchester, Jamaica, and an M.S. of Social Work from Andrews University in Berrien Springs, Michigan. 
She is in private practice in Ontario, Canada, and has served as faculty and guest lecturer at universities in Canada. Bent-Rattray has supervised Marriage and Family Therapy students at Colorado State University in Fort Collins.
At ULM, Bent-Rattray was a member of Phi Kappa Phi Honor Society. She holds professional memberships in the Ontario College of Social Workers and Social Service Workers, Ontario Association of Social Workers, Canadian Association for Marriage and Family Therapy, and American Association for Marriage and Family Therapy. 
College of Arts, Education, and Sciences – 11 a.m.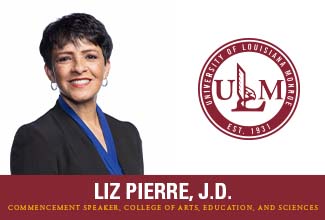 The College of Arts, Education, and Sciences will hear from Elizabeth "Liz" Pierre, J.D., at its commencement ceremony. Pierre is Sr. Vice President of Legal and Research at the North Louisiana Economic Partnership and a partner in Pierre and Pierre, LLC, law firm in Monroe.
Pierre received a B.S. in Business Administration from the University of Louisiana Lafayette and a Juris Doctorate from Southern University Law Center. She is a graduate of the Economic Development Institute and holds an Economic Development Finance Professional certification.
In 2017, Gov. John Bel Edwards appointed Pierre to the University of Louisiana System Board of Supervisors, where she is interim chair.  
Pierre has served on several local boards, including Area 81 Workforce Investment Board, United Way of Northeast Louisiana, NOVA Workforce Institute, and the Catholic Diocese of Shreveport Finance Council.  
Pierre is married to attorney J. Rodney Pierre, and they are the parents of three children, Devon, Deja, and James Rodney.
College of Pharmacy – 2 p.m.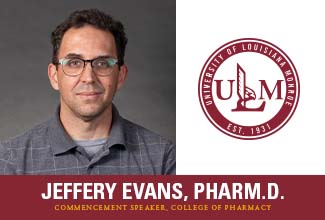 Jeffery Evans, Pharm. D., Director of the ULM Pharmacy School of Clinical Sciences, will address graduates at the commencement ceremony.
Evans earned his undergraduate in 1998 and Doctor of Pharmacy in 2002, both from the University of Florida. He completed a primary care residency at Texas Tech University Health Science Center and the Veterans' Affairs Medical Center in Amarillo. Evans was among the initial faculty hired by South University in Savannah, GA, for its new School of Pharmacy.
In 2006, Evans joined ULM's College of Pharmacy in Shreveport and became Director of the School of Clinical Sciences in 2017. He has received multiple teaching awards and is recognized as an expert in pharmacy law in Louisiana. 
Evans is married to Dr. Emily Weidman-Evans, and they have two daughters. His wife is an Associate Director and Professor of Physician Assistant Studies at LSU Health Sciences in Shreveport. 
Evans enjoys being with his family, playing video games, and distance running.
College of Business and Social Sciences – 4 p.m.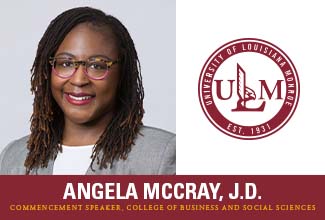 Angela D. McCray, J.D., an alumna of the College of Business and Social Sciences, will deliver the commencement address to graduates.
McCray is general counsel at Greenoaks Capital, a global investment firm in San Francisco.
At ULM, McCray earned a BBA in Accounting in 2005 and an MBA in 2005. She went on to attend Stanford Law School in California and was awarded her Juris Doctorate in 2013.
At Stanford, she founded Project ReMADE to help those formerly incarcerated to become successfully self-employed by utilizing their entrepreneurial aptitude and skills. McCray was awarded the 2013 Deborah Rhode Public Interest Award for the ReMADE initiative.
McCray has served as an attorney at Entangled Ventures, Gunderson Dettmer, and Simpson Thacher & Bartlett LLP. McCray is a licensed CPA (inactive) in Texas and Louisiana. Before attending law school, she worked in the audit and tax groups at PwC in Dallas. 
About commencement at ULM
The university implemented individual college ceremonies earlier in the COVID-19 pandemic for campus and community health safety and followed state regulations limiting capacity.
Although there are no state regulations on capacity at this time, the university will continue having separate commencements for graduates and their guests.
Everyone must wear face masks and practice social distancing.
---
For those who cannot attend, live streaming of the separate ceremonies will be available on ulm.edu/commencement.
---
Please send questions to commencement@ulm.edu. For more on commencement, visit ulm.edu/commencement.