Published November 1, 2022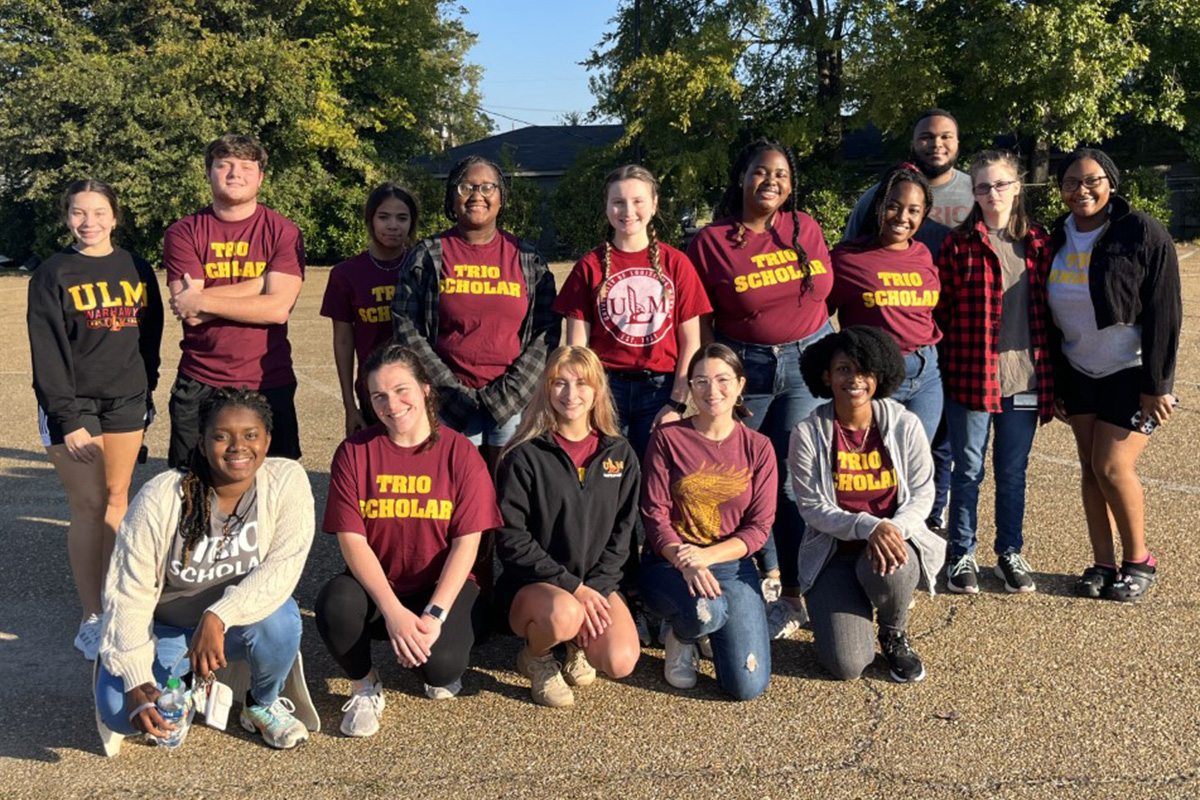 CAPTION:ULM TRIO-SSS Volunteers –(L-R)Back row: Victoria Pittman, Matthew LeBato, Dorothy Armstrong, Khayla Moore, Elizabeth Phillips, Miracle Alexander, Ambrosia Davis, Alfred Henderson, Rainy Brown, Ta'Natia Walter Front Row: Shakonna Sudds, Lillian Myers, Stacia Jinks, Jyssica Hattaway, Alicia Williams. Photo by Reagan Smith/ TRIO Programs GA 
MONROE, LA -The University of Louisiana Monroe TRIO Programs, Student Support Services (ULM TRIO-SSS), joined forces once again with Pelican State Credit Union for their 4th Annual Free Kids Bike Race on Saturday, October 15, at Tower Place in Monroe. Parents and their children 12 years old and under were invited to participate in this free and healthy event. 
Before the event, ULM TRIO-SSS volunteers prepared goody bags to give out to kids before and after the races. The ULM TRIO-SSS students then started the kids with fun, pre-race stretches and warm-up exercises. All volunteers cheered the racers on and encouraged them on the sidelines as they pedaled, while also ensuring that none of the kids went out of bounds.  
Following each race, the Pelican State Credit Union staff gave away door prizes for kids and parents from local Ouachita Parish businesses, with three lucky kids receiving a free bike. Healthy refreshments and fun games were available for all the racers and their families to enjoy. 
To help students understand the necessity of giving back, the ULM TRIO-SSS program coordinates a community service project every semester for program participants. These opportunities provide students with chances to develop civic accountability and other important skills that prepare them to be thoughtful and productive citizens within their own community.  
"ULM TRIO-SSS strives to make an impact not only on campus, but also in the community. By coordinating various community service opportunities, it allows the participants a chance to see the influence they can have on others," said Jyssica Hattaway, Life Coach/Retention Specialist for ULM TRIO-SSS. 
ULM's Student Support Services (SSS) is a comprehensive, federally funded TRIO program that aids a small, select number of undergraduate students at ULM. SSS assists at every stage of undergraduate education, from helping students select classes in their first semester to preparing for their first job interview. SSS provides intensive academic, personal, and career counseling to help students reach their goals at ULM. For more information on TRIO-SSS, click here.