Published October 18, 2023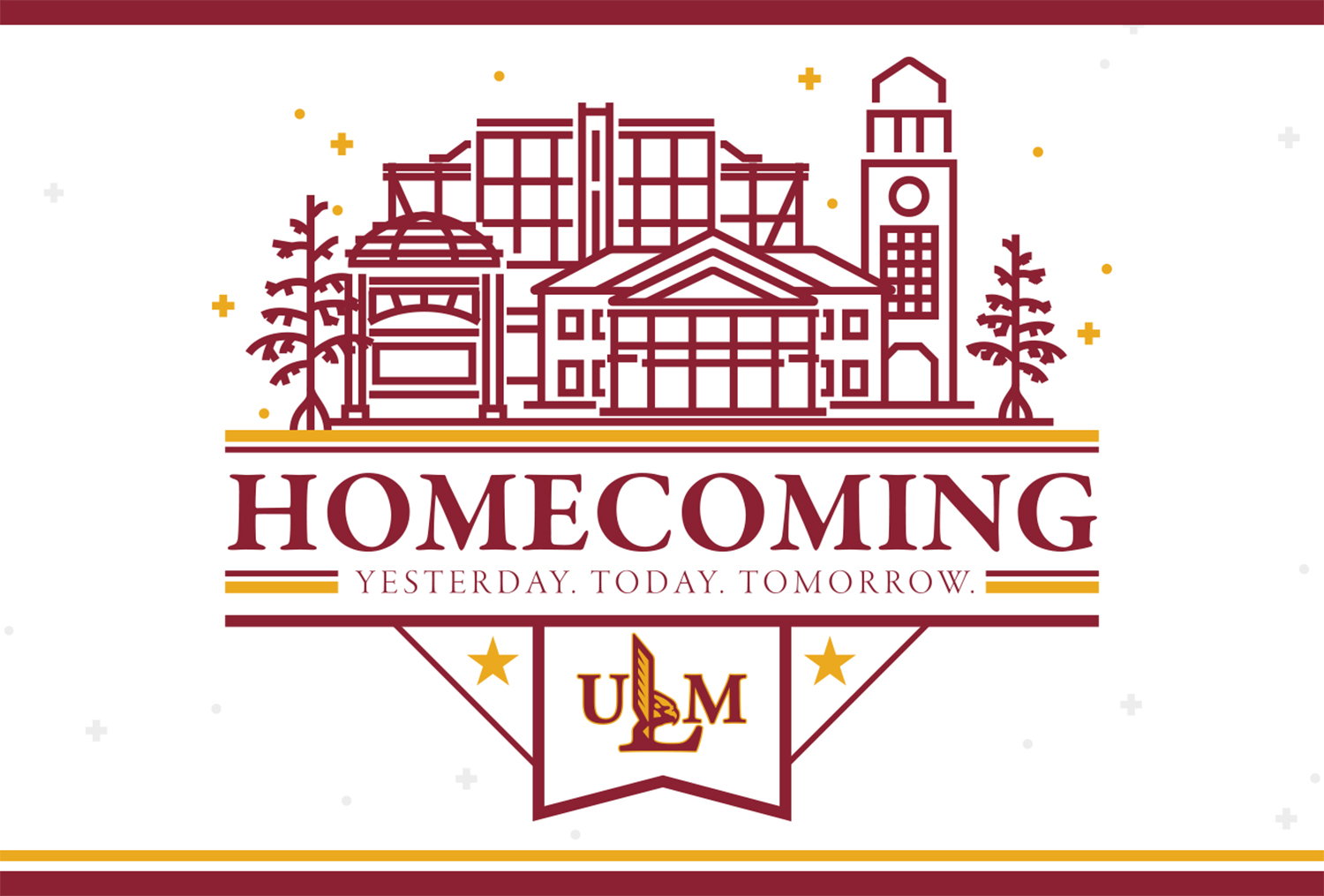 MONROE, LA – University of Louisiana Monroe alumni near and far are invited to come back to the bayou to celebrate homecoming during the week of October 23 - 28. Festivities begin on Monday, October 23 and culminate on Saturday, October 28 as the Warhawks take on Arkansas State University. Kick-off for the football game is at 4:00 p.m. in Malone Stadium. 
   
A complete list of homecoming festivities can be found at ulm.edu/homecoming. Highlights from homecoming week include: 
  
Tuesday, October 24 at 6:30 p.m. – Faculty & Staff vs. Students Softball Game  
Students will take on their favorite faculty and staff members on the softball field. Gates open at 6:30 p.m. and the game begins at 7:00 p.m. at the softball complex.  
  
Wednesday, October 25 at 5:30 p.m. – University Mile 
One of the most treasured traditions at ULM, the University Mile is open to all community members. The one-mile race begins at the Liew Family International Student Center on Northeast Dr. and finishes at the Activity Center. Register for the 39th annual University Mile in the front office of the Activity Center. 
Thursday, October 26 at 5:30 p.m. – Homecoming Parade & Pep Rally 
The football team, ULM spirit squads, the Sound of Today Marching Band, homecoming court, and more will parade through ULM's campus at this family-friendly event. The parade begins on Northeast Dr. and ends on Warhawk Way. The Pep Rally will follow at 7:00 p.m. in the Pecan Grove. The football team, Head Coach Terry Bowden, and the ULM spirit groups are sure to get everyone excited for the big game. Meet the 2023 Homecoming Court and find out who will be crowned Homecoming Queen and King. Visit ulm.edu/homecoming for a map of the parade route.  
  
Friday, October 27 at 8:00 p.m. – NPHC Homecoming Step Show 
ULM fraternities and sororities team up to present the much-anticipated NPHC Homecoming Step Show. Steeped in tradition, the chapters will stroll, step, dance and cheer at 8:00 p.m. in Fant-Ewing Coliseum. Doors open at 7:00 p.m. All community members are invited to purchase tickets at https://bit.ly/step-show-2023 
  
Saturday, October 28 at 10:00 a.m. – Good Morning Gala 
Join the ULM Alumni Association for the Good Morning Gala: A Homecoming Celebration at Bayou Pointe Event Center. Celebrate the day with a DJ, photo booth, brunch, grits bar, and a bloody mary & mimosa bar! The Alumni Association will honor the recipients of the Golden Arrow Award & the Rising Young Alumni Awards, introduce the 2023 Homecoming Court, and recognize all other alumni returning to the bayou. Tickets are available here.  
Saturday, October 28 at 4:00 p.m. – Football Game 
Cheer on the ULM Warhawks as they take on Arkansas State at Malone Stadium. Don't miss tailgating in the Grove before the game for the full-day experience. Purchase tickets to the football game at ulmwarhawks.com.