Published September 13, 2023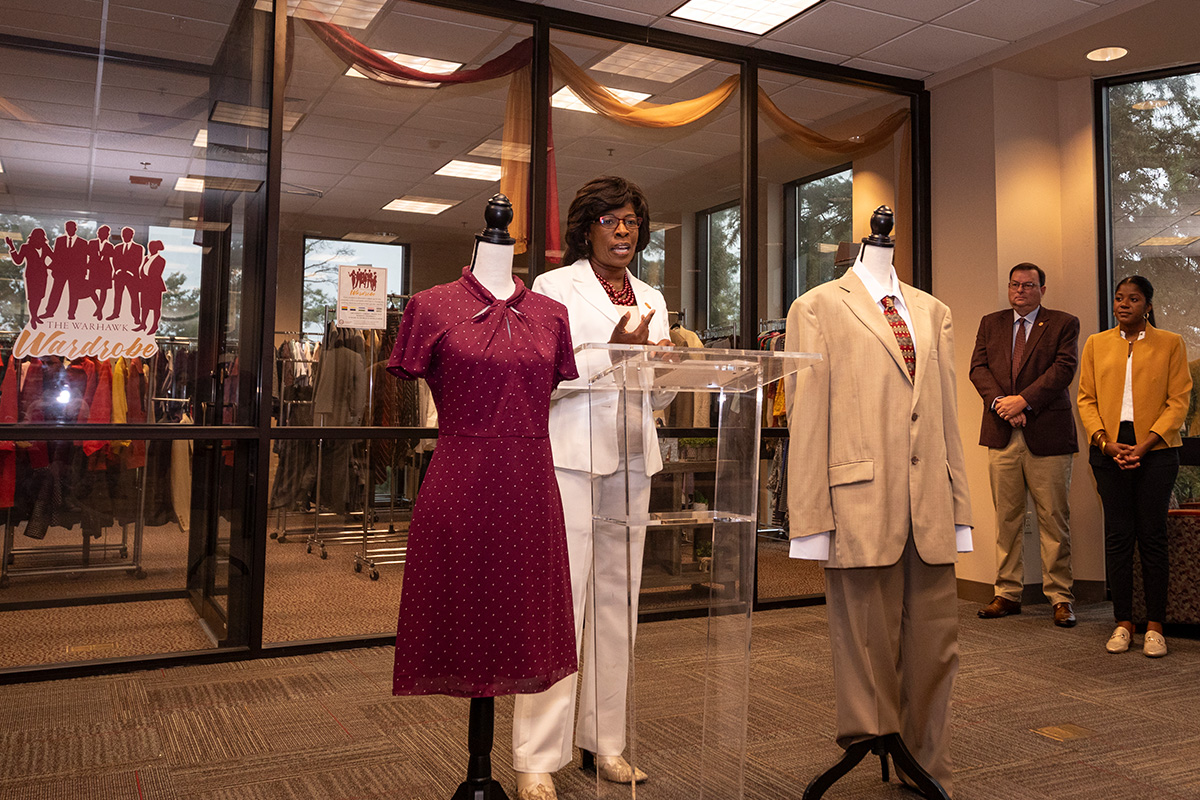 CAPTION: ULM Vice President for Student Affairs Dr. Valerie Fields addresses the crowd at the Warhawk Wardrobe Donation Drive Kickoff.  
---
MONROE, LA – On Wednesday, September 13, ULM held a Donation Drive Kickoff event for the Warhawk Wardrobe, a free resource that allows students to obtain business attire for job interviews or professional events. The event was to kick off a donation drive that will run throughout the fall semester. The Warhawk Wardrobe is accepting donations of new or gently used clothing ranging from business casual to business professional. ULM President Dr. Ron Berry and First Lady Dr. Christine Berry started the drive by making a donation themselves.  
The Warhawk Wardrobe was launched in October 2021 as a collaboration between Dr. Christine Berry, Vice President for Student Affairs Dr. Valerie Fields, and the Career & Student Development Office. The career closet is open to all ULM students, and ULM alumni can utilize the Warhawk Wardrobe up to six months after graduation. 
"This was really a joint vision between me, Dr. Fields, and Kristin Chandler from Career & Student Development," said Dr. Christine Berry. "They just took it and ran, and I can't believe what an amazing wardrobe they've created for our students. This is something that ULM can really offer our students to ramp up our level of service to them," she added.  
"It has been a great experience for our students. They have really had great opportunities to come and receive professional attire that was donated by over 70 members of our faculty, staff, and community members," said Dr. Valerie Fields. She stated that about 170 students have used The Warhawk Wardrobe in the last two years.  
President Berry encouraged everyone to donate to The Warhawk Wardrobe if possible. "If you have extra professional clothes this is a great place where those clothes can get a new life, help change another person's life, and help a student feel good about themselves," said Berry.  
The Warhawk Wardrobe is located on the second floor of the University Library in room 201E. It is open 8:30-10:30 a.m. and 12:30-2:30 p.m. Monday-Thursday. Students can also make an appointment with a wardrobe specialist in the Career & Student Development Office in Sandel Hall 139 or by calling (318) 342-5338.  
Anyone can donate to the Warhawk Wardrobe. Donations should be cleaned or dry-cleaned. Donated items should be in good-to-excellent condition and current with fashion. Black, gray, navy, beige/khaki, white, or other neutral colors are preferred for business suits. Donations can be delivered to the Career & Student Development Office in the Student Center, 601 Bayou Dr., during regular business hours, 7:30 a.m. - 5:00 p.m. Monday – Thursday and 7:30 –11:30 a.m. on Friday.  
On November 15, 2023, the Warhawk Wardrobe will host a cleanout event during ULM's Career Development Week.  
For more information about the Warhawk Wardrobe, click here.