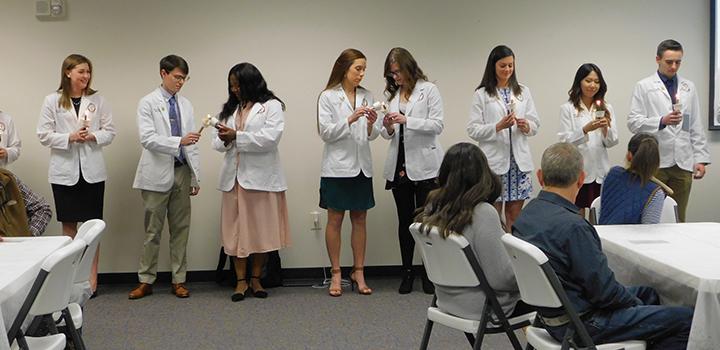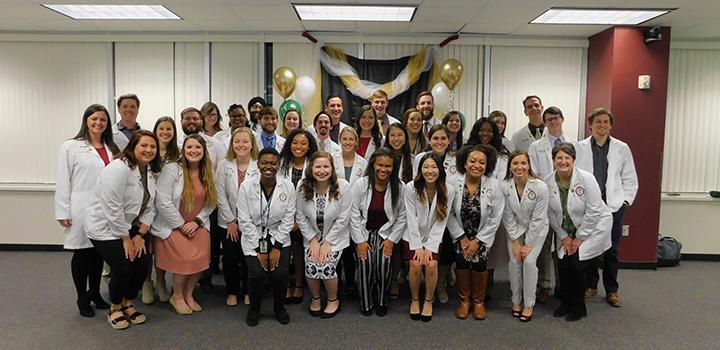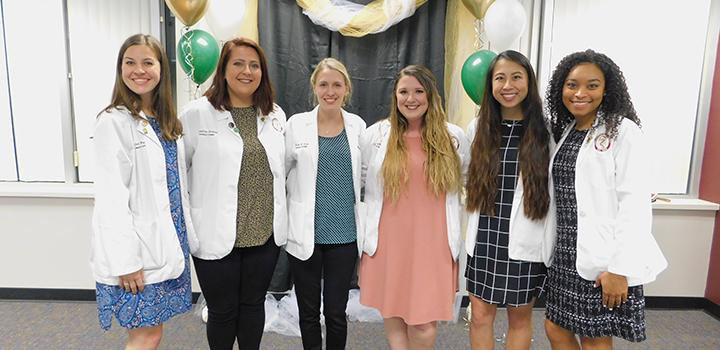 Welcome to the Alpha Omega Chapter of Phi Lambda Sigma
We are an honorary leadership organization by invitation only.  One is eligible by invitation among members of our organization and faculty.
Mission Statement
To support pharmacy leadership commitment by recognizing leaders and fostering leadership development.
Leadership Lecture Series
Each semester Phi Lambda Sigma chooses two faculty members by vote of the other School of Pharmacy organizations.  These two faculty members are given the opportunity to give a lecture pertaining to their research and practice settings to School of Pharmacy students.
| | | |
| --- | --- | --- |
| Current Members | Newly Initiated Members | Honorary Faculty Members |
| Gurnoor Benipal | Raven Alexander | Dr. Jamie Terrell |
| Kimberly Tran | Jared Anders | Dr. Stephen Hill |
| Quentin Kelly | Katelyn Arabie | Dr. Roxie Stewart |
| Toni Brooks | Taylor Beauchamp | Dr. Courtney Robertson |
| Allison Edney | Brian Day | Dr. Anthony Walker |
| Alyssa Pellegrin | Christian Jones | Dr. Laurel Sampognaro |
| April Stelly | Min Jee Kim | Dr. Scott Baggarly |
| Bryce Parker | Lauren LaForge | Dr. Michael Cockerham |
| Caleb Jackson | Michalyn Rachal |   |
| Chelcie Bonin | Keeley Richard |   |
| Chloe Sealy | Ethan Robarts |   |
| Clayton Williams | Courtney Smart |   |
| Donyelle Madison | Darrell Smith |   |
| Kaitlin Comeaux | Elle Tarver |   |
| Kobi Cameron | Kayla Thibodaux |   |
| Madeline Dorsey | Steven Upshaw |   |
| Maiah Hardin | Morgan Wimberly |   |
| Quintin Good |   |   |
| Rachel Pecora |   |   |
| Skylar Grass |   |   |
| Stephen Snelling |   |   |
| Abby Thibodeaux |   |   |
| Allison Hamner |   |   |
| Annalise Labatut |   |   |
| Brett Lambert |   |   |
| Camden Dunnahoe |   |   |
| Carleigh Roberts |   |   |
| Joshua West |   |   |
| Katie Bruce |   |   |
| Katie Pizzolato |   |   |
| Kolleen McWilliams |   |   |
| Kristen Baudoin |   |   |
| Ryan Grant |   |   |
| Taylor Goree |   |   |
| Victoria Rathcke |   |   |