General Parking Regulations
All vehicles must be registered with a University of Louisiana Monroe permit/hangtag which authorizes persons to park in the zone designated by the parking permit/hang tag. The university does not guarantee a parking space will be available at any time.
The University of Louisiana Monroe assumes no responsibility for the safety and/or security of any vehicle or its contents at any time while operated or parked on campus. The university reserves the right to tow and impound vehicles abandoned or parked in any place, or in a manner creating a potential hazard for pedestrian or vehicular traffic or impeding the movement of emergency equipment.
All vehicles parked on campus must be operable or are subject to being towed. The owners of such vehicles are required to pay towing costs and impoundment fees. All students, faculty, staff, employees of contractors and other organizations affiliated with ULM are responsible for fines arising from violations incurred in the operation of their vehicles, including those incurred by other individuals who use said vehicles. This applies to all vehicles owned by or registered to the address of the responsible party.
Nonpayment of parking fines and fees assessed for permits or violations, while on the ULM campus shall constitute grounds for prohibiting students from registering for subsequent semesters and are subject to collections. Transcripts validating credits earned for academic courses also shall be withheld pending full payment of any parking fines and fees.

Parking Zones
Parking is enforced 24/7 and is permitted only in the designated parking zones. Parking is expressly prohibited in streets, on sidewalks, in loading zones, at bus stops, or in a pedestrian crossing. During restricted parking hours (7:30 a.m. to 4:30 p.m. Monday through Thursday or 7:30 a.m. to 11:30 am on Fridays), students, faculty, and staff personnel must park in the zone designated by their parking permit/hangtag.  Parking Zones are designated by the following colors: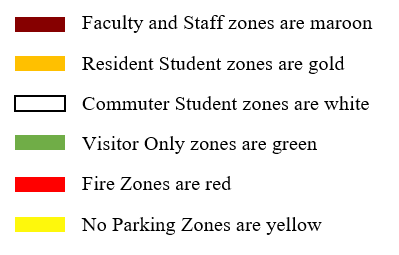 After 4:30 p.m. students, faculty, and staff may park, with a current ULM parking permit/hangtag, in any legal parking space with the exception of Reserved or Handicap spaces. Faculty/staff restricted hours parking areas are restricted to Faculty/Staff only. Faculty/Staff lots will be open for all parking for faculty/staff and students (with current ULM parking permit) after 4:30 p.m.
Resident Hall lots are reserved 24/7 for on-campus residents only. Residents are issued resident parking permits and must park only in lots assigned to their respective residence halls (7:30 a.m. to 4:30 p.m. Monday through Thursday or 7:30 a.m. to 11:30 am on Fridays.) At all other times they are subject to the same regulations as commuter students.
Vehicles parked in a manner creating a hazard; such as in fire zones, crosswalks, streets, or traffic lanes may be towed at owner's expense. Loading/unloading vehicles and visitors must obtain a temporary parking pass from University Police. Special parking permits are only approved by the University Parking Supervisor or the Director of University Police.
Contact UPD at 318-342-5320 or visit the University Police Department, located in Filhiol Hall at 3811 DeSiard Street, for information about obtaining a temporary parking pass.


Overflow Parking
Faculty/Staff may park in lots designated for commuter students. The university provides almost 6,000 parking slots on-campus and parking is almost always available (even when the main campus may be congested Monday-Friday) in the overflow lots. Student parking is available in the open lots east or south of ULM's Child Development Center located on Cole Avenue or east of Warhawk Way near Malone Stadium and Brown Stadium.
Bicycle Parking Info
Bicycles are to be parked and locked in bicycle racks located throughout the campus. The locking of bicycles to trees, utility poles, etc., or the parking of bicycles along walkways, lawns, etc., or in any area that impedes the flow of pedestrian and/or vehicular traffic, or hinders the work of the grounds maintenance crew are considered parking violations. Any bicycle subjected to these infractions will be impoundment by UPD.