OPPORTUNITY | YESTERDAY. TODAY. TOMORROW.
Radiologic Technologists: produce quality images of human tissues, organs, bones and vessels using imaging equipment. They play a very important role on the medical team by providing essential imaging to the radiologist, a physician who has specialized training in the use of radiographs for diagnosis and treatment.
---
The U.S. Bureau of Labor Statistics predicts that employment for radiologic technologists will continue to grow by as much as 21% through 2022.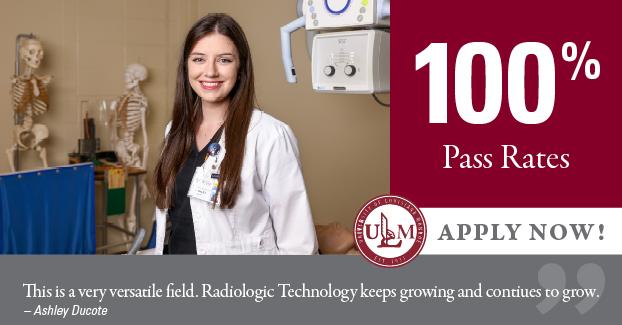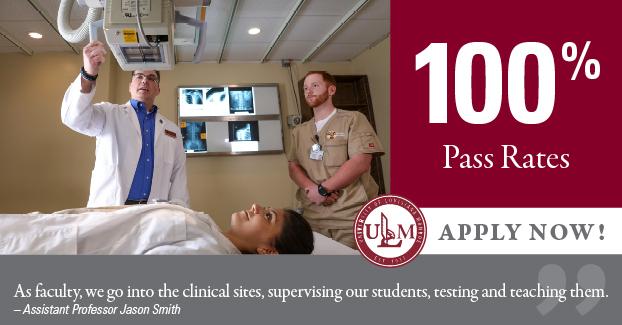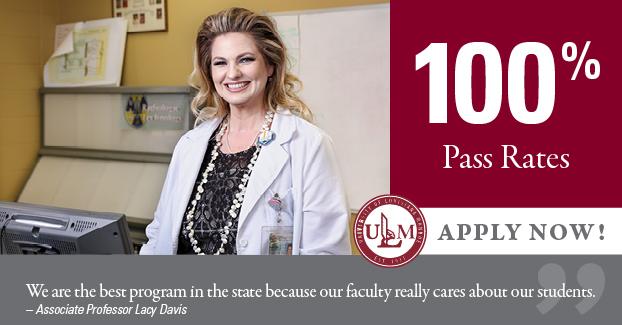 WHAT SETS OUR PROGRAM APART:
100% job placement after graduation

The best program in the state of Louisiana

Outstanding, Experienced Faculty

Clinical experience with state-of-the-art equipment.

On-Campus, Energized X-Ray Facility
---
 OUR PROGRAM:
Provides a fully-accredited four-year curriculum which leads to a Bachelor of Science in Radiologic Technology.
Graduates are eligible to sit for the American Registry of Radiologic Technologists (ARRT) national exam.
Graduates gain eligibility for an additional credential in an advanced imaging modality.

Post-baccalaureate

 programs include: Certificate in Computed Tomography (CT).
Students learn clinical competency by producing quality radiographic images, providing quality patient care, and practicing appropriate radiation protection. 
Students demonstrate effective oral and written communication with patients and the health care team.
Students exhibit high ethical standards and know the importance of continued professional development.
---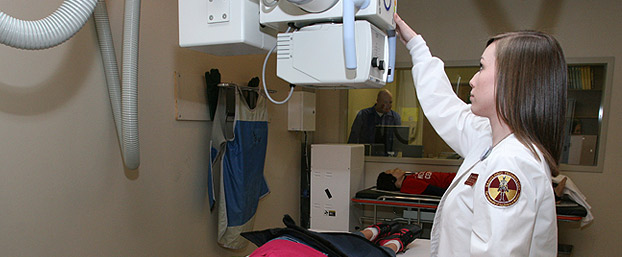 ---
BEYOND THE CLASSROOM:
In the radiologic technology program, you begin real-world clinical training your junior year at one of our eight affiliate partner institutions, including major hospitals and private imaging offices.
Rotations at various affiliate settings throughout the program provide a wide breadth of clinical experience, preparing you for immediate success in your career.
As a radiologic technologists, you have the opportunity to further your education by earning certificates in specialized fields of radiology such as mammography, magnetic resonance imaging (MRI), ultrasound imaging, forensics and nuclear medicine.
---
CAREER OPPORTUNITIES:
The profession of Radiologic Technology is expanding rapidly and offers a wide range of employment opportunities.  Technologists are employed in hospitals, physician's offices, clinics, and public health and educational facilities.  The demand for qualified individuals with a B.S. degree remains strong in the profession. 
A 4-year degree provides advancement potential beyond radiographs. With a bachelor's, it's much easier to become a lead technologist, healthcare administrator, equipment sales manager, or clinical instructor. A bachelor degree from ULM also allows graduates to apply professional schools while gaining experience in the medical field.
Technologists practice in diagnostic radiology, Ultrasound (US)*, cardiac laboratories (special procedures), Magnetic Resonance Imaging (MRI), Computerized Tomography (CT), Mammography, Nuclear Medicine (NM)*, and Radiation Therapy (RT)*. * requires additional formal certifications
---
What is radiologic technology? from University of Louisiana Monroe on Vimeo.