ULM RMI Society/Gamma Iota Sigma
FALL 2017:  Gamma Iota Sigma Meetings, Monday, 6:30 PM (specific dates below)
August 21st - Welcome New RMI Majors and Welcome Back Everyone! (no guest speaker)
October 2nd (rescheduled) - Guest Speaker: Sharon Gallagher, Intern and ARU Program Manager, All Risks (Huntsville, MD)
October 9th - Guest Speaker: Fabion Dorsey, Associate Underwriter, Markel Corp. (Dallas, TX)
November 6th - Guest Speaker: Richard Perkins, LWCC, Safety Services Manager (Baton Rouge)

   Gamma Iota Sigma (GIS) is the International Risk
   Management, Insurance and Actuarial Science Collegiate
   Fraternity. The University of Louisiana at Monroe
   founded its chapter of GIS in 2002 and since then, it
   has also operated as the Risk Management and
   Insurance or RMI Society.
GIS is designed to foster the study of risk management and insurance in universities; to encourage scholarship, social activities, and the association of students for their mutual advancement by research and practice; to promote closer affiliation between the risk management and insurance industry and students of risk management and insurance; and to further a high standard of ethics at universities and in the industry.
Some of the specific benefits of membership in ULM's Gamma Iota Sigma include:
Participation in the student mentorship program (partially funded by the Richter's memorial fund)
Eligibilty to attend GIS and other professional conferences and meetings
Opportunities to gain valuable leadership experience
Invitations to special events associated with the Risk and Insurance Talent Search (e.g. lunch, receptions, socials)
Inclusion in ULM's GIS Resume Book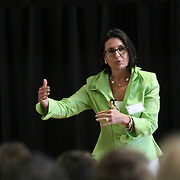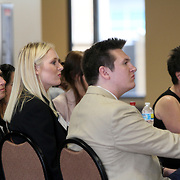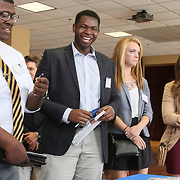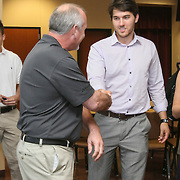 SPRING 2017 MEETINGS: 
February 5th - BMS Re, Dallas, TX
March 5th - Guest Speaker, Jessica Wilson, Director of Underwriting, Personal and Commercial Lines, Bankers Financial (St. Petersburg, FL)
April 2nd - Heartland Security Insurance Group, Tyler, TX
2017 Gamma Iota Sigma Officer Executive Committee:
President: Mandi Bartet 
Secretary: Hayden Williams
VP Internal: Jerry Ehlers
VP External: Jordan Shelton
Treasurer: Taylor McGuffee
2017 Committee Chairs

RITS Co-Chair

Karyn Okoyeze

RITS Co-Chair

Hailey Milton

Social Chair

Open

Alumni Chair

Courtney Hill

Public Relations Chair

Amber Madison

(PR) Social Media Coordinator

Claudio Smith

(PR) Off-Campus Recruitment Coordinator

Skylar DeRouen

Campus Involvement Co-Chair

Open

Campus Involvement Co-Chair (Atlas)

Drake McEachern

Community Service Chair

Chance DeFriend

Chapter Membership Chair

Chelsea Coston
Membership and Meetings
All Risk Management majors and minors are invited to become members of Gamma Iota Sigma.  In order to maintain membership in ULM's RMI Society, a student must be in good standing, enrolled in the current or upcoming term and pay dues of $40 in your first year and $30 for every year thereafter.  Dues are shared between the local and national chapter.
GIS hosts a variety of speakers from the risk management and insurance industry including Association Presidents, company and broker Executive Vice Presidents, surplus lines branch managers, Chief Actuaries and many more. Risk management and insurance industry professionals are invited to speak regarding their field of expertise in the business and about opportunities and preparation for careers in the RMI industry.