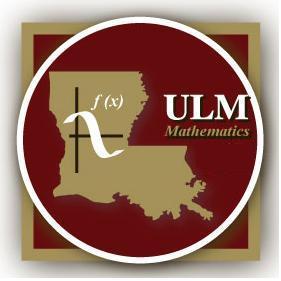 The mission of the Department of Mathematics is committed to providing outstanding mathematics to all of ULM's students. Building from a solid foundation of dedicated faculty, the department provides a top quality mathematics curriculum incorporating contemporary educational technology as well as innovative teaching strategies. Along with the essential quantitative skills, all levels of the curriculum will develop logical reasoning and problem solving skills.
The department consists of one baccalaureate program, Mathematics and through the College of Education a student can pursue a baccalaureate program of mathematics education Math Education (Grades 6-12). In 2008 the ULM mathematics education program was one of the top 10 nationally to produce qualified mathematics teachers ULMMATH. College students graduating in 2008 with a math-related degree are likely to earn significantly higher starting pay than their peers in liberal arts disciplines, according to the winter 2007 salary survey by the National Association of Colleges and Employers (NACE).
The Bachelor of Sciences in Mathematics prepares students for transcends careers fields ranging from business to the medical sciences. Students who receive their degrees in mathematics find career opportunities in the fields of biostatistics, operations research, actuarial science, and numerical computing.The Bachelor of Sciences in Math Education is in high demand from school districts, local and afar, with a wide range of salary. Due to the fact that there is such high demand for qualified math and science teachers, usually the salary is a much higher range than other disciplines.
Classroom instruction is enhanced by co-curricular opportunities in KME and NELATM. The department's well-developed internship program places advanced students in positions outside the university, where they engage in challenging service to the community and professions.
If you would like additional information about the Department of Mathematics at the University of Louisiana at Monroe, please use our Information Request Form.