ULM's 3rd President - Lewis Cecil Slater: 1950-1958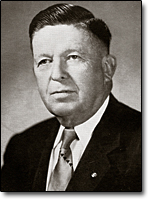 Lewis C. Slater was born in Severy, Kansas, in 1893.
He received his bachelor's degree in chemistry from the University of Colorado in 1914 and the master's degree in chemistry and engineering from Louisiana State University in 1915.
Slater joined the Northeast Center of LSU staff in 1938 as head of the Department of Biology and Natural Sciences
Between teaching assignments, he was the chief chemist for Bogalusa Pulp and Paper Company and the Bastrop Pulp and Paper Company.
Slater was named president of the newly-designated Northeast Louisiana State College, a four-year institution, in 1950.
He retired from the institution in 1958.