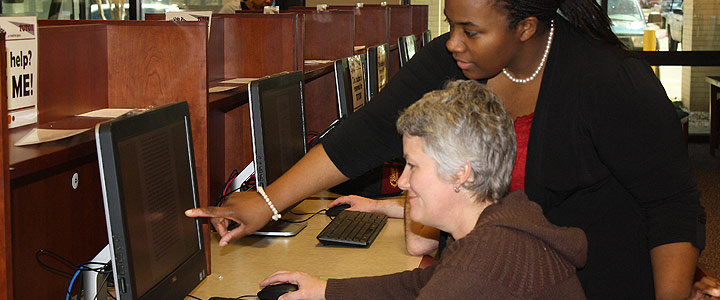 "Online courses allow non-traditional students more flexibility than taking on-campus classes and provide a quality education without the demand of making major changes to the students' lifestyles." - Alicia Hodges (standing), Graduate Assistant and MA English student pictured with Jenise Erikson (seated), MA English Student.
Master Degree
Masters of Arts in English (MA)
This degree is a 33 hour graduate curriculum in English that covers a wide range of literary topics from medieval to contemporary, from the conventional to the arcane. The course requirements are flexible and MA students can specialize in either Literary Studies or Creative Writing.
In addition to university requirements for admission to the Graduate School, all applicants for admission to the Master of Arts degree program in English must meet program admission requirements.
For more information about this program, including admission requirements, please see the ULM Graduate School.