Dr. Jeff Anderson, Professor of History, School of Humanities, College of Arts, Education & Sciences "It is enjoyable to teach students information they have never heard before.  I especially like answering the questions that students ask when they are interested in a topic."
Master Degree
Master of Arts in History (MA)
This is a non-thesis, 30 hour graduate program in history that gives the student valuable knowledge applicable in law, politics, and citizenship.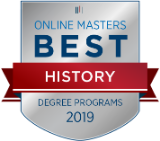 In addition to the University requirements for admission, all applicants must meet the following criteria:
A GPA of 3.0 from a regionally accredited university.
OR
A minimum cumulative undergraduate grade point average of 2.5 (based on a 4.0 scale)
A minimum combined score of 283 on the Graduate Record Examination General Test  (143 Verbal plus 138 Quantitative) 
A minimum formula score of 707.50, calculated by multiplying cumulative undergraduate grade point average by GRE score (2.5 GPA X 283 GRE)
Applicants who fail to meet the above standards may be admitted on conditional status as recommended by the Graduate History Admission and Curriculum Committee in concert with the Dean of the Graduate School.
Applicants seeking admission to this program must also currently hold a bachelor's degree with a minimum 18 semester hours of Social Sciences and/or Humanities, with at least half of those being from History. No less than one-half of the graduate program of study must be taken in history courses restricted to graduate students only (5000 level and above.) 
For more information about this program please see the ULM Graduate School or contact Dr. Jeffrey Anderson at jeanderson@ulm.edu or (318) 342-1370.