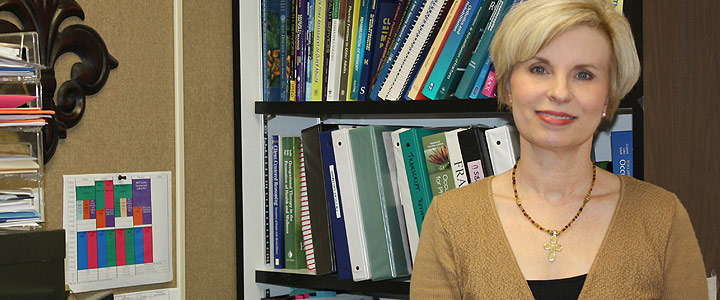 "I love teaching! The students are my number one priority and I want them to feel like they have a mentor and a resource. It's exciting to help students achieve their career goal of becoming an occupational therapy practitioner. I love the fact that as a teacher I have the ability to impact the students' lives and they can go on and impact other people's lives in a positive way. I love watching students grow professionally and develop a love and enthusiasm for the profession of Occupational Therapy!" - Dr. Carolyn Murphy, Associate Professor & MOT Coordinator, School of Health Professions, College of Health Sciences.
Master Degree
Master of Occupational Therapy (M.O.T.) A Hybrid Program 
Please contact 318-342-1610 for more information!
The Master of Occupational Therapy Program (MOT) consists of:
Level II fieldwork of a minimum of 24 full-time weeks (or the equivalent if completed on a part-time basis) in approved settings scheduled and coordinated by The University of Louisiana at Monroe. 
Graduates of the program will be eligible to sit for the national certification examination for the Occupational Therapist administered by the National Board for Certification in Occupational Therapy (NBCOT).
After successful completion of this examination, the individual will be a Occupational Therapist Registered (OTR). Many states require licensure in order to practice; however, the majority of state licenses are usually based on the results of the NBCOT Certification Examination.
For more information, including admission requirements, please see the ULM Graduate School or the program website.