Peer Leader Program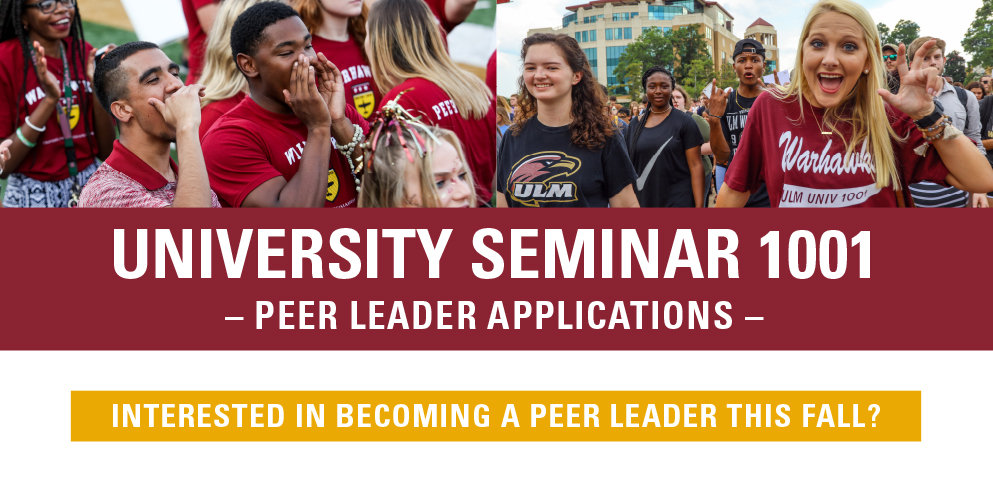 Selection as a Peer Leader is viewed as an honor. University Seminar 1001 Peer Leaders assist University Seminar 1001 faculty in the successful implementation of the course objectives. Peer Leaders also serve as role models and mentors to ULM 's first-year students, thereby enhancing the academic performance, co-curricular awareness, and the overall first year experience. The selection process begins in the spring.
If you are interested in becoming an integral part of ULM's University Seminar 1001 Program, please review the selection criteria below and follow the instructions under "How to Apply."
Peer Leader Selection Criteria
Minimum GPA of 2.5
Proven record of leadership and involvement
Interest in working with a faculty member
Interest in diversity and community service
Willingness to mentor 1st year students
Peer Leader Duties & Responsibilities
Serve as a mentor for academic and leadership involvement
Maintain communication with University Seminar 1001 instructor
Assist in facilitating class discussions and activities
Serve as a liaison for student feedback to the instructor and SSC staff
Remain current on campus events and present briefly at each class
Keep Moodle announcements correct and current
How to Apply
Download and complete the Peer Leader Application Form
Have a ULM faculty or staff member complete and return this form: Peer Leader Recommendation Form
Submit your completed application to Will Copeland at the front desk of the Student Success Center.
Faculty Nominations
Faculty may also nominate outstanding student leaders to serve as Peer Leaders. Please download and complete the Peer Leader Nomination Form
Email your completed nomination form to Will Copeland at copeland@ulm.edu or return it to the Student Success Center.