Supplemental Instruction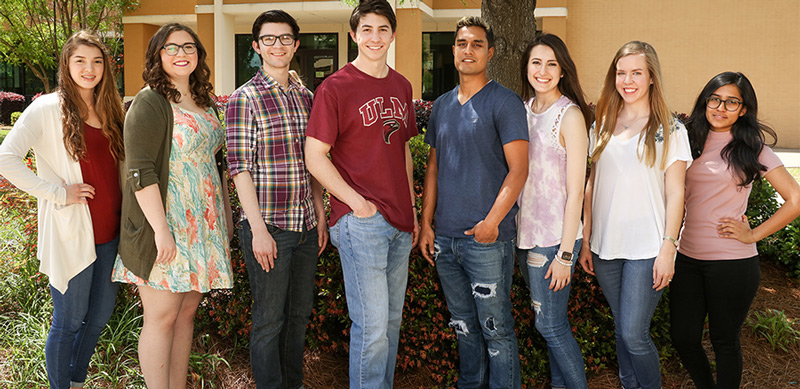 Supplemental Instruction is a free academic assistance program, which helps students incorporate "how to learn" with "what to learn."   The Supplemental Instruction Program targets historically difficult courses and places an SI Leader inside the classroom.
For more information about Supplemental Instruction at ULM, please contact the Student Success Center
at 318-342-3667. For employment opportunities, see below.
---
FAQs
What is SI?
Supplemental Instruction (SI) sessions are weekly review sessions for students enrolled in historically difficult courses. SI targets tough courses!
SI provides a chance to get together with people in your class to compare notes, to discuss important concepts, to develop strategies for studying the subject, and to test yourselves before your professor does, so that when he/she does, you'll be ready.
SI is provided for all students who want to improve their understanding of course material and improve their grades. These sessions are facilitated by a trained SI leader.
What does an SI Leader do?
Have you ever wished you could do something over, knowing what you know now? That's impossible, but you can come close in SI. SI leaders are students themselves who have taken the class before and earned a high grade. They are prepared to share with you what they have learned about how to study effectively for this course. They know the course content and are anxious to help guide you through it. They'll also be in class with you every day, hearing what you hear and reading what you read.
How does it work?
At each session you will be guided through course concepts by your SI leader, a competent student who has previously taken the course and been trained in group facilitation techniques.
Your leader will not lecture or give you his/her class notes. Your leader will not do your homework or your thinking for you.
Your leader will help you make good use of your study time. After all, you have to study anyway. Might as well do it with friends so that you can share your knowledge and figure things out together. Your leader will share with you the strategies he/she used to be successful in the course. Your leader's job is to help you think about the lectures you hear and the books you read, and then put it all together into some kind of perspective during SI review sessions so you can learn it more efficiently.
Will the professor be present at the SI session?
"The professor will not be present at the SI sessions. You are free to address the problems you face in the class. You will be surprised to see how many other students in the class have similar problems understanding the material and face the same anxiety you do concerning tests and quizzes given in the class. Interacting with others and discussing the course content in an uninhibited atmosphere helps you prepare in a more effective manner."
What's in it for me?
If you attend SI sessions regularly, chances are you'll earn a better grade. Research shows that students who attend SI sessions regularly average one half to one full letter grade higher than their classmates who choose not to attend. When you attend SI, you'll develop a better understanding of course content as well as more effective ways of studying.   Hopefully, you'll make a few new friends, too!
When do sessions start?
SI sessions start the very first week of classes. Remember, the secret of success is to study proactively! Don't wait until the night before the test!! Since you have to study anyway, why not come to SI and make efficient use of your study time? Your SI leader will keep you informed about the times and locations for sessions.  
Each SI leader will set up three or more review sessions a week at times that are best for the majority of your class.   You can attend one, two, or all three. It is your choice. Each one will be different because you'll have new material to discuss. SI review sessions are informal. Bring your notes; bring your textbook; bring your questions.
What does it cost?
The best part of the deal is that SI is free! If we keep track of how often you come, it is only for our research purposes. We want to show the student population all around the world how effective SI is!
How do I know if SI is offered in my class?
Currently, SI is offered for CHEM 1001, CHEM 1007, CHEM 1008, BIOL 1014, BIOL 1015, BIOL 1020, MATH 1011, and ECON 2002. However, the specific courses supported by SI each semester may change. Check with the Student Success Center for updated information each semester.


---
Employment Opportunities


Are You Interested in Becoming an SI Leader?
If you are an energetic and motivated student, we would like to invite you to complete the SI Leader Application.  Serving as an SI Leader is a rewarding opportunity to grow academically, personally, and professionally.  Supplemental Instruction is a program in which you not only touch the lives of others, but you will also establish a professional communication network of people who share your similar interests and values. 
           
If you love working with people, assisting others, and impacting lives, we would love to have you be a part of the SI staff.  Please review the qualifications and job description carefully prior to completing the application. 
SI Leader Qualifications 
An overall GPA of 3.0 or above (on a 4.0 scale) is required.
Must have previously taken the selected course.     A grade of "A" in the course is preferred.
Good interpersonal and communication skills (to be determined by the SI supervisor) are required.
How to Apply
Download and complete the SI Leader Application.
Email your completed application to Ben Nance.
Ask one of your instructors to complete the recommendation form and email it to Ben Nance.