Center for Business and Economic Research
The Center for Business and Economic Research (CBER) provides reliable, timely, and accurate economic data that is critically important to the development of our region.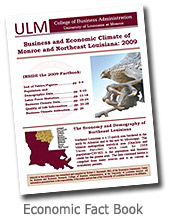 Quarterly, CBER participates in an Accra-Cost of Living Survey so our regional cost of living can be compared with the rest of the country.
This data along with other pertinent economic data is published in the Northeast Louisiana Fact Book on an annual basis. The Fact Book has become a valuable resource for business leaders and economic development professionals throughout the state.
CBER annually publishes the Louisiana Fact book, which is a comprehensive compilation of data and some analysis of the demography and economy of Northeast Louisiana.
Each spring, the ULM College of Business along with LA Tech's College of Business host a Business Outlook Summit during which much of the data and analysis from the Fact Book and Accra-Cost of Living Survey are presented and discussed with leaders throughout the region.
All three of the previously mentioned sources are made available for public consumption at no cost. Resources provided through CBER have played a critical role in developing the region, such as provided necessary data and analysis for relocation decisions, reducing costs of financing, and business expansions.
Louisiana Small Business Development Center
The Louisiana Small Business Development Center (LSBDC) is a great program that offers free consulting support for local businesses or entrepreneurs.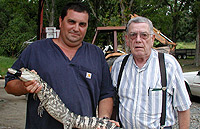 The LSBDC assists these individuals and businesses with management and technical assistance, including developing business plans, developing expansion plans, or even tan assessment of the business.
The LSBDC offers many classes and workshops that teach local entrepreneurs in the community about opening and running a business effectively and efficiently. The LSBDC also provides an information resource center that is used to help local businesses with collecting industry data about that business's industry or competitors. These services that are performed by the LSBDC are all available absolutely free to local businesses or potential business owners in the community.
During this past fiscal year, the LSBDCwas able to generate on average $5 million in capital, which includes loans and/or equity, for local businesses that were looking to open a business.
The LSBDC helped the community by assisting in opening 16 new businesses last year alone. To help the community even more, the LSBDC was able to help local companies grow and were able to create 76 new job positions within these local businesses.
The LSBDC not only helps the local businesses and entrepreneurs looking to open a business, but the program also looks to help ULM students. The LSBDC also assist students with marketing analysis and data, whether for classes or potential business ideas.
The LSBDC helps to create potential business plans for students that are looking to become entrepreneurs upon graduation. Most importantly, the LSBDC helps to give students at ULM real world experiences with developing business plans or changing particular facets of the business to help in contributing to the success of businesses in the community.