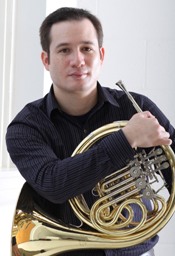 Dr. James Boldin maintains a diverse career as an educator and performer. He is a member of the faculty in the School of Visual and Performing Arts at The University of Louisiana at Monroe. From 2011-2014 he held the Dr. William R. Hammond Endowed Professorship in Liberal Arts.
He has performed at the 44th, 45th, and 47th International Horn Symposiums, and at numerous regional horn conferences. He has also presented clinics at the Midwest Clinic International Band and Orchestra Conference, the Louisiana Music Educators Association State Convention, and the South Central Regional Music Conference. He performs extensively with Black Bayou Brass, a resident faculty ensemble at The University of Louisiana at Monroe. As a member of this ensemble, he has performed recitals and presented master classes throughout the region and abroad. Recent engagements include performing at the 2014 International Women's Brass Conference, the National Association of College Wind and Percussion Instructors national conference, and a series of performances and master classes in Thailand at Mahidol University, Silpakorn University, and the Royal Thai Navy Music School.
An active orchestral musician, Boldin holds positions with the Shreveport Symphony Orchestra, Rapides Symphony Orchestra, and Monroe Symphony Orchestra. He has also performed with the South Arkansas Symphony Orchestra, Louisiana Lyric Opera, Opera East Texas, and with numerous orchestras in the Midwest, including the Madison, La Crosse, Green Bay, Manitowoc, and Oshkosh Symphony Orchestras. As a soloist, he has performed Mozart's Concerto for Horn, K. 447 with the ULM Chamber Orchestra, and Paul Basler's Missa Kenya and Songs of Faith with the Monroe Symphony Chorus.
His debut solo recording,
Jan Koetsier: Music for Horn
, was released in 2013 on the MSR Classics Label, and has been critically praised for "superb playing…on an extraordinarily high level of both technique and communicative abilities." (Fanfare Magazine). He has also been recorded on the Summit Records label and on two orchestral recordings, James Dick Plays Edvard Grieg, with the Texas Festival Orchestra conducted by JoAnn Falletta, and Overtures from Overture Hall, with the Madison Symphony Orchestra conducted by John DeMain. He is the author of
Solo Duet Training for Horns
, a collection of pedagogical duets based on popular solo literature for the horn, and his articles and reviews have been published in The Instrumentalist Magazine, The Horn Call: Journal of the International Horn Society, and the National Association of College Wind and Percussion Instructors Journal. An avid arranger, his works have been published by Mountain Peak Music, Cimarron Music Press, The International Horn Society, and Stainer & Bell, Ltd. In 2012 and 2015 he was awarded Career Advancement Grants from the Louisiana Division of the Arts. He also maintains a website devoted to horn playing and teaching at
jamesboldin.com
. Boldin is a member of The College Music Society, The National Association of College Wind and Percussion Instructors, and The International Horn Society, and currently serves as
IHS area representative
for the state of Louisiana. Boldin earned the Doctor of Musical Arts and Master of Music degrees from the University of Wisconsin-Madison, and a Bachelor of Music degree from Appalachian State University. For more information on horn study at ULM, visit the
ULM Horn Studio website.
About this Site
These pages are intended for current horn students as well as students interested in studying the horn at ULM.
The Department of Music at the University of Louisiana Monroe is a part of the School of Visual and Performing Arts, and offers degrees in a wide variety of concentrations. Students choosing horn as their major instrument can choose from numerous degree offerings. Numerous funding opportunities are available for undergraduate students, including talent grants and several academic scholarships.
In addition to their weekly applied lessons, horn students can expect to play in a variety of large and small ensembles including the ULM Orchestra, ULM Wind Ensemble, ULM Horn Choir, brass quintets, woodwind quintets, and other small chamber groups.
Numerous other playing opportunities are also available in and around the Monroe area. Solo opportunities include the weekly student recital hour as well as a weekly horn studio class. This 50 minute class serves to supplement individual studio lessons, and allows the instructor to address specific playing and teaching concerns within a group format.
Black Bayou Brass is the faculty brass ensemble in residence at ULM, and offers students the opportunity to hear their instructors perform both traditional and contemporary brass ensemble literature.
If you have any questions or would like further information on horn study at ULM, please feel free to contact me by phone or email. I would be happy to set up a complimentary lesson with you if you are planning on visiting the ULM campus.
Contact Dr. Boldin
Email: boldin@ulm.edu
Office Phone: 318-342-1591