College of Arts, Education, & Sciences
VAPA | Art
Welcome to the
ULM Art Program
 videography by Dylan Jung
Artist...
an interesting term describing those expressive individuals with the ability to share their imaginative vision. Artists find new ways to view the past, explain the present and influence the future. Overall, they possess the ability to compress the most fascinating elements of life into a single visual experience.
Today, as science unravels the complexities of the universe to supply answers to the mysteries of our world, art can provide the means to understand and continue the process of living in it. As technology moves into the routine of daily life, the appreciation of original, handmade items increases. Artists at ULM embrace traditional media of visual expression as well as the latest computer graphic and image making techniques.
Undergraduate art curricula provide a broad base of visual experience and discipline in a variety of areas. Introductory courses in design, drawing, and art survey provide foundations for advanced work in any medium, as well as support for other programs of the University.
The School of Visual and Performing Arts (VAPA), Art Program, offers the Bachelor of Fine Arts degree with a major area of concentration selected from ceramics, drawing, graphic design, painting, or art education.
The Art Education program in cooperation with the School of Education provides certification requirements for teaching art at elementary and secondary levels.
Bulletins
---
---
Articles for artists
https://www.artbusiness.com/artists.html
---
  Attention: 
Student Portfolio Reviews
  • Current schedule  PDF
  • About portfolio reviews  PDF
  • Chapter five on critique dynamics from "The Critique Handbook" by Kendall Buster and Paula Crawford, click to view online at: "The Critique Handbook"

Portfolio Review artist statement
  • About the artist statement  PDF
  • Preparing for the artist statement  PDF
  • Why write an Artist Statement?
  • Guidelines for an artist statement.
  • Sample Resume 2019  PDF
ART 3000 Portfolio
  • Art 3000 syllabus  PDF

Digital Portfolio Review 
  • sample-portfolio-document-template.DOCX.ZIP
      (Download and unzip)
  • about-digital-portfolio-review-document PDF
  • sample-faculty-checksheet-spring-2020 PDF
  • How To Photograph & Edit Artwork Images With Your Phone and Free Apps - YouTube
This tutorial covers quick and easy methods to photograph and edit images using your cell phone, daylight, and the free app Snapseed.
Or...
You can search for links to other applications.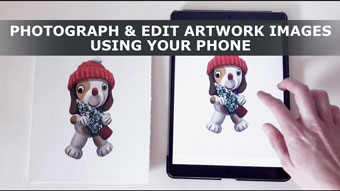 • Word document with inserted images

A simple Word document with inserted images can be very effective for portfolio submission. A Word document can be "printed" to a PDF.
Sample Word docx, and PDF, courtesy of Mr. Tresner.
---
News
---
---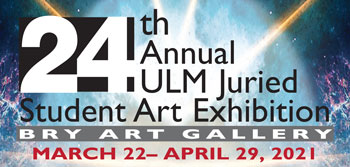 Click link to the recording of the award's ceremony
---
---
ART MAJORS
ADVISING FOR
SUMMER & FALL 2021 BEGAN
Monday, March 15.
ALL undergraduate students (both online and face-to-face) will have advising holds. Students should contact an advisor before registration.

The SSC will continue to advise TALON students, all pre-professional students, all Gen Studies majors, and all undeclared students.
SUMMER REGISTRATION BEGINS
MONDAY, MARCH 29.
FALL REGISTRATION BEGINS
TUESDAY, APRIL 13.
Contact your art advisor by email or in class to arrange for advising.
Visit Degree Requirements Page for more information
---
---
---
  Kappa Pi Delta Alpha
International Honorary Art Fraternity
If you want to be part of the art scene at ULM,
contact any Kappa Pi officer.

     Follow Kappa Pi on Instagram
---
The British Studies Program
Study in London, the United Kingdom,
and the European continent.
---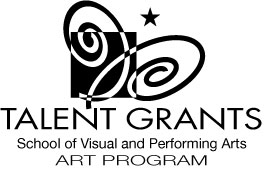 Click to go to talent grant application
---