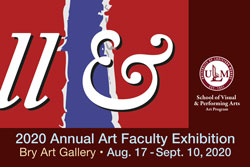 Monday, August 17 – Thursday, September 10, 2020
Annual ULM Art Faculty Exhibition
Bry Art Gallery, ULM campus

No reception planned due to COVID-19 cautions.
Over the next few weeks, we are likely to see a number of new directives and policies come out as the picture becomes clearer of what the state of the nation will be on August 17th.
COVID-19 CAUTION
If you visit campus you must wear a face mask and follow recommended university and CDC guidelines.
click to see a larger version of the postcard
---
---
---
---
---
---
Bry Art Gallery Spring 2021 Schedule
- more information will be posted when available
ULM Campus, DeSiard St. entrance
Hours:
Mon - Thurs 8 am - 4:30 pm
Friday 8 am - 11:30 am
---