College of Arts, Education, & Sciences
Biology
The hallmark of biological science is interdisciplinary scholarship, centered on the discovery and understanding of all living things.
The ULM Biology program is a vibrant, engaging, intellectual environment where the best and brightest study and research with outstanding faculty. We are devoted to our science and are very pleased to have the opportunity to share our discoveries with others in the classroom and laboratory.
We recognize that our primary mission is to maintain and nurture a caring and supportive environment that provides our students with best preparation possible for their future, whatever direction it may take. Our goal is to produce graduates who truly appreciate the significance of biology in a modern world and who are well prepared for their next challenge.
We invite you to look further and see where exciting careers of a lifetime begin... here at ULM!

News & Bulletins
---
Congratulations!
Congratulations to Luke Stamper who won 1st place in the poster competition at the Louisiana Association of Professional Biologists Fall Symposium for his poster entitled "Cowpea (Vigna unguiculata) Biomass Response to Seeding Rate, Planting Date and Herbicide Intensity Level."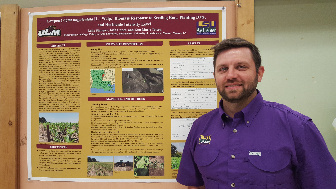 Resources...
---
Biology Brochure
Proposed Biology class schedules