Faculty profiles:
Dr. Christine Berry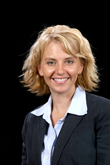 Dr. Christine Berry joined the University of Louisiana at Monroe in August 2001 and is currently an Associate Professor of Risk Management and Insurance and the Director of the Small Business Risk Management Institute. 
Prior to joining ULM, Berry was a Risk Management Consultant and later the Director of Education with Reinsurance Brokers E. W. Blanch and Benfield Group (now part of AON Re) in Minneapolis, MN and Dallas, TX. As Director of Education, she was responsible for the courses and materials for a widely recognized insurance and reinsurance educational institute.  Berry previously was an Assistant Professor of Insurance at St. Cloud State University in Minnesota.
Dr. Berry was appointed to the Louisiana Insurance Rating Commission in 2004 and served until its abolishment in 2006.  Her work calling for the LIRC's abolishment was published in the CPCU eJournal.  
From 2005 to 2015, Dr. Berry worked on various research projects, particularly related to retaliatory insurance taxation, for the Louisiana Department of Insurance.  Some of her research findings on insurance taxation have been published in the NAIC's Journal of Insurance Regulation. 
In 2007 Berry served on the Property and Casualty Insurance Commission and has since made several presentations to the Commission.  Also in 2007, Berry was first a member and later the Chair of the Property Insurance Association of Louisiana (PIAL) which then administered the Louisiana Citizens Property Insurance Corporation.
In 2010, Berry began work with the Louisiana Small Business Development Center (LSBDC) under a grant provided by the Small Business Administration (SBA) to study the condition of risk management among small businesses in Louisiana and to provide training and education to small businesses across the state. In December of 2011, Berry became the Director of the Small Business Risk Management Institute (SBRMI) which was established to research, educate, and advocate for small businesses in the area of risk management and insurance.  She has presented findings from the SBRMI's research to the Louisiana Property and Casualty Insurance Commission (2010) and at the America's SBDC Annual Conference (2012) and the National Hurricane Conference (2013).
Berry has represented the Griffith Foundation at the National Conference of Insurance Legislators meeting (2012) as a presenter on property and liability insurance issues and on states' roles in the National Flood Insurance Program.  She is also a regular presenter to regional and state insurance associations including the Louisiana Professional Insurance Agents, Independent Insurance Agents and Brokers of Louisiana, and the Louisiana Surplus Lines Association.
Berry is the adviser to two student organizations: ULM's Gamma Iota Sigma and River Oaks School's Future Business Leaders of America.  
Dr. Berry continues to enhance the Risk Management & Insurance program through unique opportunities, including offering the same top-level education she helped to create for one of the world's top reinsurance training programs and provides students with an industry edge by emphasizing surplus lines and reinsurance in the curriculum. 
Associate Professor, Program Coordinator
Director of the Small Business Risk Management Institute
Hemphill Hall 309
(318) 342-1157
Lauren McCarty
Lauren McCarty joins the ULM RMI program fall 2016 as an Instructor.  She earned her JD from Mississippi College and has an undergraduate degree in Accounting from the University of Louisiana at Monroe.