College of Business & Social Sciences
Risk Management & Insurance
ULM RMI for Industry 
Click here to register for the ULM Spring 2020 Career Fair: Wednesday, February 12.
The ULM RMI program will also host a reception on Tuesday, February 11th from 5:30 - 7:00 at the ULM Terrace. All prospective employers of ULM RMI students are welcome to attend!  Please RSVP at cberry@ulm.edu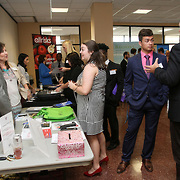 Supporting the ULM RMI Program
The ULM Risk Management program needs your support to continue to meet the talent
needs of the risk management and insurance industry.  The program is now has over 130 majors and is quickly becoming one of the largest RMI programs in the country.  With an emphasis on property and casualty, insurance distribution and underwriting, and surplus lines and reinsurance, most of our students work in production, underwriting or claims and many work in the surplus lines. 
Help us get the word out by donating to our program.  Contact Dr. Christine Berry if you would like more information on how to donate.  With your help, we will continue to recruit and develop to help to fill the insurance industry talent gap.