College of Business & Social Sciences
Risk Management & Insurance
ULM RMI for Industry 
The Insurance Industry Talent Gap
As an insurance professional, you know all too well that the industry is facing a significant and somewhat alarming talent crisis over the next 20 years. With half the work-force retiring in the next 10 - 15 years, you need a talent pool like ULM RMI graduates who are have completed the rigorous requirements of our program and are well-prepared to begin their RMI careers. They understand the long-term benefits of working in the RMI industry and are certain to be committed and driven employees.  They also have the knowledge and creativity that many of us admire in the millennial generation.
This page is dedicated to helping you (as RMI professionals) help us to recruit outstanding students and to prepare them to immediately add value to your organization.  We also answer  many of the most commonly asked questions we receive from RMI industry professionals.  Please contact our RMI Coordinator, Deja Peppers, peppers@ulm.edu if you have further questions.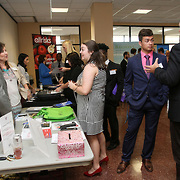 Supporting the ULM RMI Program
The ULM Risk Management program needs your support to continue to meet the talent
needs of the risk management and insurance industry.  The program is now has over 130 majors and is quickly becoming one of the largest RMI programs in the country.  With an emphasis on property and casualty, insurance distribution and underwriting, and surplus lines and reinsurance, most of our students work in production, underwriting or claims and many work in the surplus lines. 
Help us get the word out by donating to our program.  Contact Dr. Christine Berry if you would like more information on how to donate.  With your help, we will continue to recruit and develop to help to fill the insurance industry talent gap.