ULM's Risk Management Program Ranked 9th Largest in the Country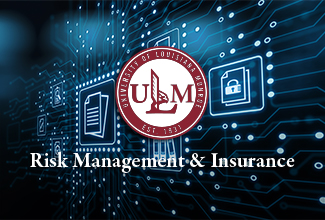 ULM's Risk Management and Insurance Program moved up from the 11th largest in 2017 to the 9th largest in the nation in 2018. 
Each year, Business Insurance, one of the top insurance industry news sources, ranks collegiate insurance programs by number of undergraduates majoring in risk management and insurance. For the fourth year in a row, ULM's program was the largest in Louisiana and one of the largest in the Southeast, surpassing programs like University of Mississippi and Georgia State University.
ULM's RMI program has consistently grown in number and national ranking. The program was ranked 18th in 2015 with 75 students, 13th in 2017 with 135 students, and 11th in 2017 with 149 students. 
Dr. Christine Berry, RMI program coordinator and Director of the Small Business Risk Management Institute said, "We attribute the growth in part to our graduates returning to campus to share news about their incredible successes in the industry and that the insurance industry offers a wide variety of challenging and rewarding careers.  We have also worked with our outstanding industry partners to develop unique recruitment, retention and placement programs that have helped grow our program and meet the workforce needs of the risk management and insurance industry. And with the recent addition of our Industry and Student Coordinator, we are taking these efforts to an even higher level."    
"There are more position openings than we have students to fill. The larger the program is, the more companies and brokers want to recruit here. But it is more the quality of graduates that keep them coming back. Word continues to spread about the exceptional young professionals ULM is producing," she said.  "Having three of the top five wholesale insurance companies consider ULM to be one of their top recruitment schools in the country is a testament to the quality of our students and our program."
ULM's program is one of the few in the country that provides specialized courses in surplus lines and reinsurance. Surplus Lines insurance is heavily used in Louisiana and across the South in the agriculture, entertainment, petrochemical and tourism industries.
ULM's Risk Management and Insurance program provides opportunities for students to receive various scholarships, internships and job opportunities with companies, agencies, and financial institutions.  
ULM Risk Management and Insurance Program Receives $50,000 from IIABL

The Louisiana Independent Agents and Brokers Association (IIABL) recently announced a $50,000 donation to ULM's Risk Management and Insurance Program. 
"The Insurance Agents and Brokers Association is one of the most prominent and influential organizations in Louisiana. For many years, IIABL has been a strong partner to the program. We are extremely honored by this commitment to continue to support and grow the ULM RMI program," said Christine Berry, Professor of Risk Management and Insurance and program director.  "Our curriculum has a heavy emphasis on the distribution side of the insurance business so the strong ties with one of the most prominent agents associations in Louisiana is very fitting. IIABL staff and members work closely with ULM RMI faculty and staff to assist them in recruiting and preparing exceptional future insurance professionals for Louisiana and beyond."
Just since 2016, more than a dozen ULM RMI graduates have gone to work for Louisiana independent agents and brokers, either as producers or account managers. 
"I have had the pleasure of meeting with many of the ULM Risk & Insurance Program students over the past several years.  They are bright, capable young people with a passion for working in our business.  The ULM Risk & Insurance Program is a tremendous resource for the Louisiana insurance industry," said Jeff Albright, Chief Executive Officer for the IIABL.   Albright has served as a member of the Industry Advisory Council to ULM's program and has spoken at ULM RMI Society meetings and other ULM RMI events numerous times over the years.
"As a ULM RMI alumni and active member of the IIABL, I couldn't be more excited about this gift.  ULM's RMI program gave me a solid foundation to become a highly successful Louisiana independent agent," said Ernest Finch, 2008 ULM RMI graduate and former member of the IIABL Board of Directors.
ULM's program was ranked 9th in the nation by Business Insurance in the fall of 2018 and is the largest RMI program in the state of Louisiana.
​From the IIABL website: the Independent Insurance Agents & Brokers of Louisiana is the go to information resource and primary advocate for independent insurance agents in Louisiana. IIABL is a member-based, professional trade association serving more than 400 independent insurance agents, meeting the education, political and business needs of members to maximize business opportunities.  
From the IIAB website: The Independent Association of Big "I" is a voluntary federation of state associations and local boards, with affiliates in every state and the District of Columbia. Its independent insurance agents and brokers are politically astute and are involved both locally and nationally. They monitor and affect consumer, insurance agent and broker, and small business issues in Washington through IIABA's active, professional staff on Capitol Hill.   https://www.independentagent.com/AboutUs
ULM Risk Management Program Receives $50,000 from Industry Leader, AmWINS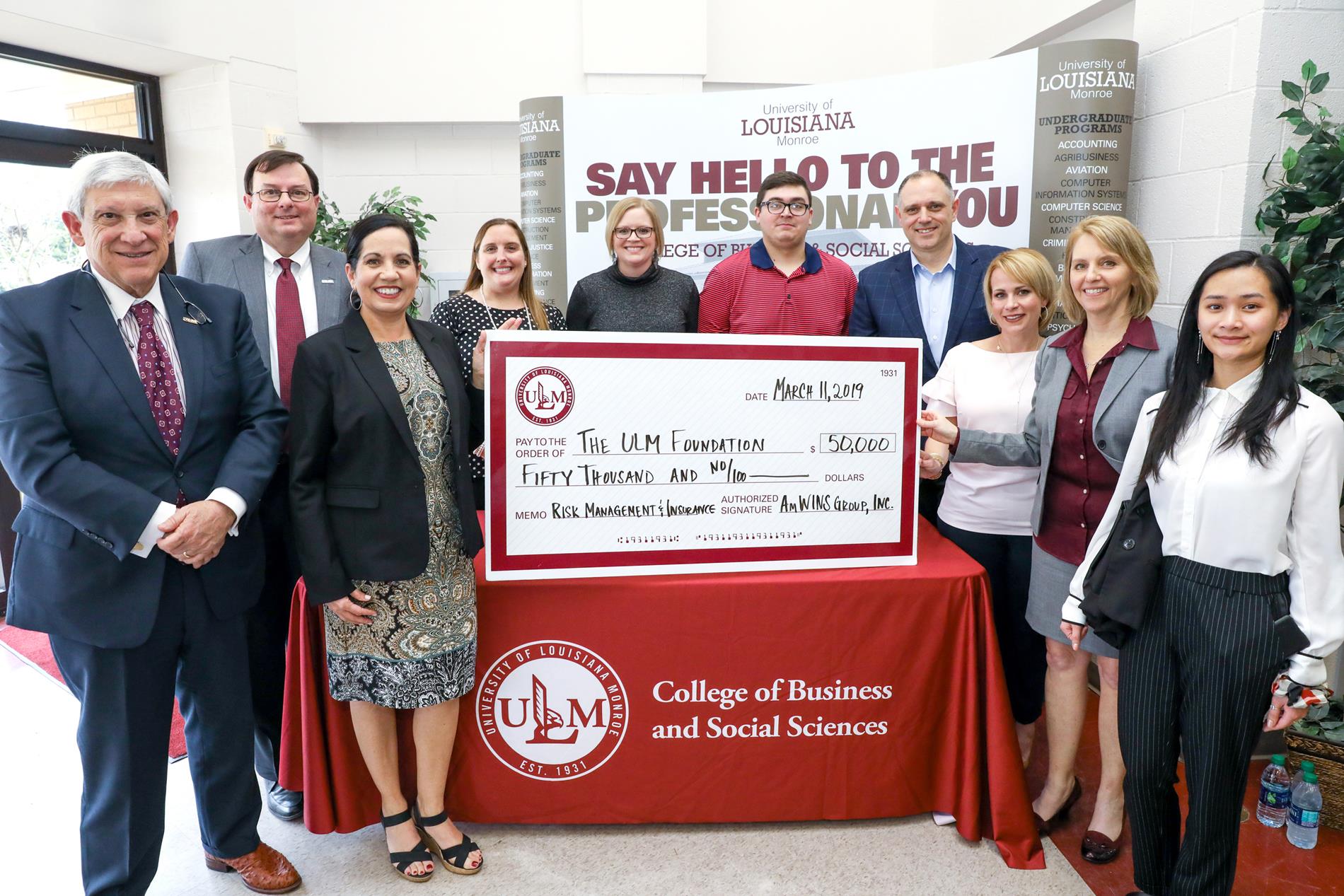 ULM's Risk Management and Insurance Program has received a commitment of $50,000 from AmWINS, Inc., the country's largest wholesale insurance brokerage
AmWINs currently employs more than 30 of ULM's Risk Management and Insurance graduates.  Since 2016, AmWINS has hired twenty-six Risk Management and Insurance majors.  Four ULM RMI spring 2019 graduates have already accepted positions with AmWINS upon graduation and four ULM RMI juniors and seniors have accepted internships for the summer of 2019. 
"AmWINS has been a great partner to ULM's RMI program.  Not only have they hired and interned many of our graduates, by speaking in classes and at RMI Society meetings, AmWINS employees have improved and enriched our curriculum and our students' experience," according to Christine Berry, Program Coordinator and Professor of Risk Management and Insurance at ULM. "AmWINS supports not only our teaching efforts but also our recruiting efforts by sending ULM RMI Alumni who are AmWINS employees back to campus to talk about this great industry and the challenging and rewarding opportunities within AmWINS.
Our graduates have gone to work all over the country with AmWINS in locations such as Nashville, Houston, Los Angeles, Dallas, Atlanta, New Orleans, and their headquarters in Charlotte, NC.   AmWINS recently opened an office here in Monroe.  Students who have interned over the summer in offices like Charlotte, NC, Baton Rouge and Dallas can work part-time in Monroe while in school.
"The decision to invest in the ULM RMI program was easy for AmWINS.  The quality of talent is amazing and we have had the opportunity to hire quality employees.  So, it was not a question of should we invest – it was why would we NOT invest.  The benefit the program provides to the insurance industry far outweighs the investment," said Tammy Culmone, Executive Vice President for AmWINS and Branch Leader for the Baton Rouge and Monroe offices. 
Junior Risk Management and Insurance Major, Logan Latin said "My first internship with AmWINS was last summer in Houston, TX.   Since then, I have had the opportunity to intern in Monroe while attending classes as well as return to the Houston office over the Winter Break and have already accepted my internship in Houston this upcoming summer.  It is exciting to know that I have amazing potential position waiting for me when I graduate even as a junior."
ULM's program is one of the few in the country that provides specialized courses in surplus lines and reinsurance. Surplus Lines insurance is heavily used in Louisiana and across the South in the agriculture, entertainment, petrochemical and tourism industries.
AmWINS is a global specialty insurance distributor with premium placements of over $15.3 billion annually.  They are the largest distributor of property, casualty and professional lines insurance products (e.g. public entities, construction risks).  Employing over 4,800 people, AmWINS specializes in offering retail agents an array of P&C programs for specific product lines, industry segments and business types.  They provide services in brokerage, underwriting, group benefits and access to Lloyds.