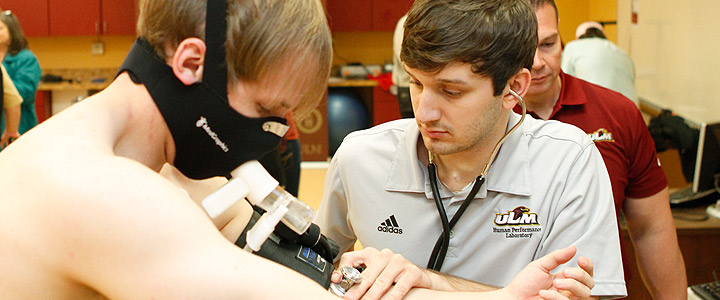 The Kinesiology Program at ULM seeks to provide our students with skills to successfully pursue contemporary careers. With studies concentrated in exercise science, pre-physical therapy, fitness and sport industry, and health-physical education teacher certification, our faculty and facilities provide the best possible learning environment. Our CAEP and CAAHEP/COAES certifications for both undergraduate and graduate programs speak to the quality of the education we offer.  We welcome potential students to discover ULM.
Choosing Kinesiology
Our Kinesiology programs prepare students for exciting careers, including teaching high quality physical education (K-12), conducting scientific testing in many aspects of exercise physiology, preparing to enter professional education in physical therapy, and the business of sport, fitness and recreation at all levels.
Opportunities in Kinesiology
With the high quality standards set by the Kinesiology Program, students must be able to meet eligibility requirements, excel in their studies and maintain a "C" or above average in the Kinesiology classes. Therefore, employers can recognize the merit and potential our graduates have to offer.
Many health and fitness specialists are researching and working to help our society with complex issues such as childhood obesity, cardiovascular disease, adult onset diabetes and more.
News & Bulletins
---
ULM student and Monroe native accepted into "Perfusionist" program
ULM announces new concentration in sport, fitness, and recreation management
ULM professor receives several accolades

Update
The Kinesiology Program is offering a new concentration for the M.S. in Exercise Science - Sport Management (Courses Available Online). This concentration is designed to appeal to those who wish to work in the business side of sport, fitness and recreation, and not as an instructor or coach.  The careers available in the field of sport, fitness and recreation management are diverse. Opportunities include program or facility directors, marketing and promotions, corporate sales, sporting goods, community programs, athletic directors and business managers, and sport or recreation management. Combined with the worldwide growth and influence of sports on society, new opportunities continue to be created in a variety of settings.
Careers in Kinesiology
---
Physical fitness, sports, and wellness may be a part of your life, but they can also become your expertise and career. Attain in-depth training  in exercise science, physical education, and the business of sport and fitness.
Graduates in Kinesiology find careers in:
• Personal or Athletic Training
• Sport, Fitness or Recreation Management
• Cardiac Rehabilitation
• Health and Physical Education (P.E. Teaching and Coaching)
• Physical Therapy* (after completing Physical Therapy school)
*Students who are interested in applying to physical therapy schools upon completion of their undergraduate degrees may have their degree program oriented toward admission requirements for the Exercise Science/Pre-Physical Therapy concentration.