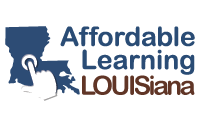 Pursuing a college degree has become a costly undertaking. In an effort to help manage costs for students and ensure equitable and timely access to course materials, some universities and colleges have turned to open educational resources (OERs). Some institutions have adopted open textbooks/e-textbooks (often provided through their libraries) as well as other open access materials. In the state of Louisiana, the statewide academic library consortium known as LOUIS has promoted Affordable Learning LOUISiana as a means to help students save money. In fact, LOUIS, using an investment of $400,000, has helped over 40,000 students save as much as $4.8 million in Louisiana!
As a member of LOUIS, the ULM Library hopes to help ULM students take advantage of such savings while supporting faculty in the identification of quality OERs and OA resources that could be used in their courses. Both LOUIS and the ULM Library can help provide access to course redesign resources for faculty seeking to redesign their courses to implement the use of these no-cost, low-cost, and cost-effective resources. Faculty can see what OERs and open textbooks have been mapped to courses listed in the Louisiana Statewide Common Course Catalog.
LOUIS also helps libraries like ULM gain access to resources like Sage Knowledge, which contains 5,000 social sciences titles that could be used as no-cost textbooks for students, and EBSCO eBooks, which contains a diversity of titles that could also be used as no-cost textbooks for students. Both of these resources are currently available through the Library's Databases by Name page.
Resources like the OER Commons, OpenStax College, MERLOT, the REBUS Community, Lever Press, and TED Talks are all really good sources of OERs and OA materials.
If you want to know more about the impact that textbook costs have had on students, look no further than this presentation by Teri Oaks Gallaway, the Associate Commissioner for LOUIS. It outlines how students in Louisiana have been affected by rising textbook costs. NPR recently released a news story that describes how homelessness and hunger are painfully common among college students.
Here are some quick facts about OERs and how they benefit both students and faculty (also available as a pdf):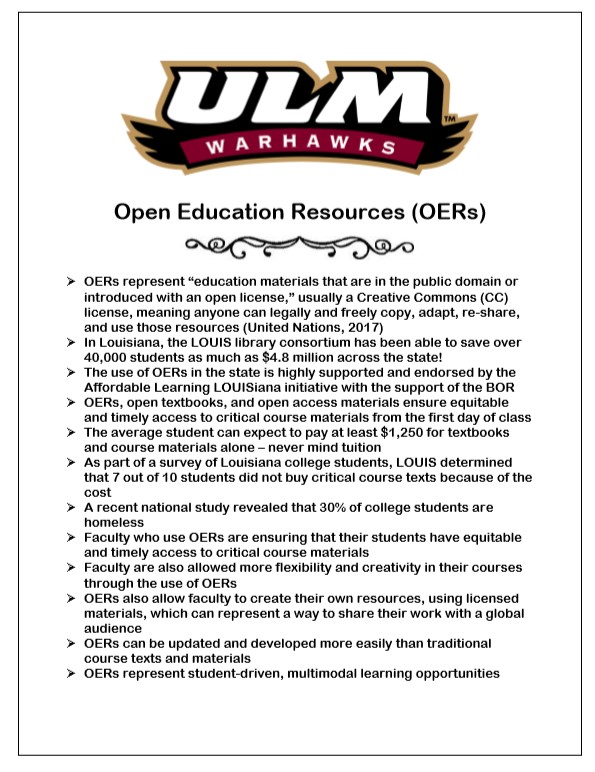 If you have questions about OERs and OA materials as well as course redesign, please contact Megan Lowe, Director of the Library.