Mission, Planning and Assessment 
The purpose of the College of Pharmacy Mission, Planning and Assessment area is to facilitate accomplishment of the mission of the College of Pharmacy through systematic assessment and continuous improvement of the structure, process, and outcomes of teaching, service and research.
Our assessment plan is based on the premise that the core of each individual is comprised of 3 elements:  his or her intellectual competence, personality, and connectivity.  It is only through development of all three elements that a fully mature and functional individual is realized.
Our program allows opportunity for development in all three elements, which enables us to gauge student readiness to serve their patients (practice-ready) as a successful member of the health-care team (team-ready) and engage as leaders in our profession; thus, ensuring we are meeting our mission and vision.
Vision
We transform our professions through the development of tomorrow's leaders who will pursue breakthrough research, advance pharmacy practice, and create education innovation.
Mission
Enhancing the health and environment of the communities we serve.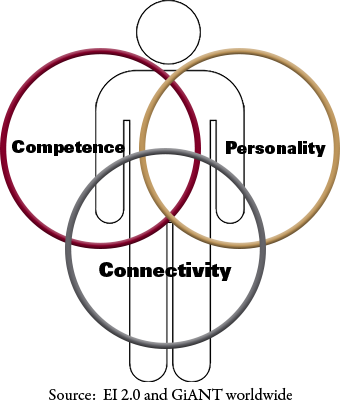 Competence
The first element is competency, which is a combination of intellectual ability and skills, which have traditionally been associated with success.  A person's intellectual quotient (IQ) is a measure of that individual's ability to learn, which doesn't change over time.  Research has shown that those with high IQ outperform those with average IQ only 20% of the time, but those with average IQ outperform those with high IQ 70% of the time.  (EI 2.0)
Personality
The next element is an understanding of how personality and innate preferences are critical to understanding how one is perceived by others.  This self-awareness should be accompanied by an ability to regulate how these preferences are expressed.
Connectivity
The last factor is connectivity, or how one relates to others.  While self-awareness has us look inward, but connectivity has us look outward at how we relate with others.
The overlap of these three elements represents the CORE of a successful individual.  Successful individuals are not only competent, they must also understand themselves and have mastery of their relationships with others. 
The strategic decisions and daily operations of the College's faculty and staff will be reflective of the following values:
Responsibility - acting morally, ethically, and with integrity, as well as being accountable for one's actions. Students, faculty, and staff have a duty to adhere to these standards. We also recognize our duty to be thoughtful stewards of those resources entrusted to us.
Innovation - the synthesis, embodiment, or combination of knowledge in original, relevant, valued new products, processes, or services, especially as related to promoting optimal patient and educational outcomes.
Collaboration - the development of educational, research and practice partnerships among students, practitioners, educators, and other stakeholders.
Quality - the pursuit of excellence, which is cultivated and assessed through a process of continual quality improvement.
Professionalism - the demonstration of structural, attitudinal, and behavioral attributes of a profession and its members. Certain professional attributes, including a service orientation; caring; respect for others; accountability and responsibility for one's action; integrity; honesty; ethically sound decision making; and a commitment to life-long learning are fundamental to our functioning as learners, educators, researchers, scholars, and practitioners of pharmacy.