Why Health Studies at ULM?
A bachelor's degree in health studies can prepare you for admissions to medical school, physician assistant, physical therapy, occupational therapy, dentistry and to work in non-clinical healthcare management jobs.

---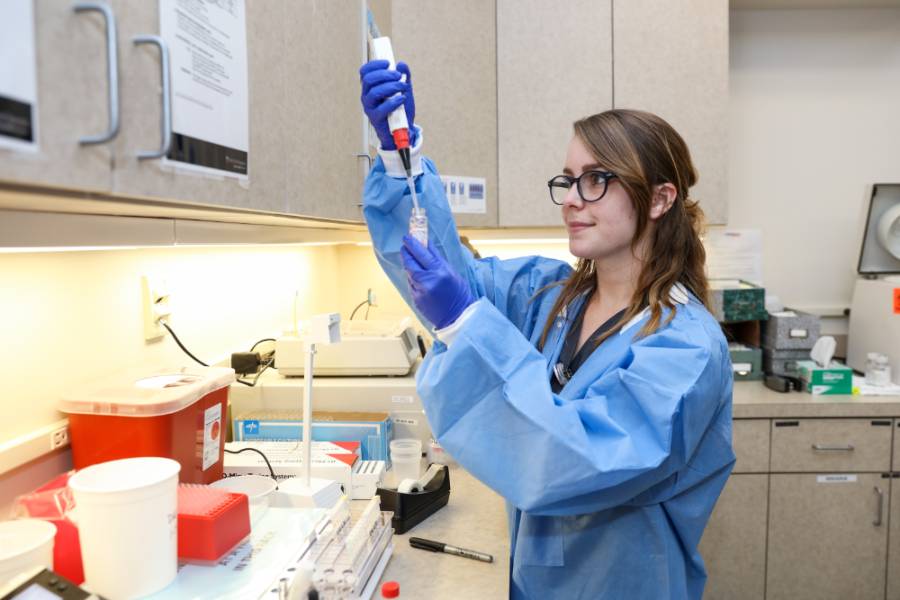 If you are a student interested in applying to allied health graduate professional programs, working in non-clinical management jobs in healthcare, or you are an experienced professional with an associate degree, then the Bachelor of Science in Health Studies is the degree for you. A Bachelor of Science in Health Studies can help you gain the skills you need for a healthcare career within both clinical and non-clinical settings.


In general, students earn a BS in Health Studies to:
Prepare for allied health graduate professional programs, such as Physical or Occupational Therapy, Physician Assistant, and Doctor of Osteopathic medicine
Advance their current healthcare careers to the next level
Change jobs or industries
Obtain non-clinical healthcare management jobs


Top Benefits of Earning a BS in Health Studies
1. You want to pursue an Allied Health Graduate Professional Program
For students who aspire to be licensed healthcare practitioners such as physical and occupational therapist or physician assistant, then the BS in Health Studies Pre – Professional track will help you reach those goals.
2. You want to advance your Current Career
You may have an associate degree and need to obtain a higher degree for advancement in your company or for application to graduate programs. The BS in Health Studies offers various tracks that support your career goals.
3. You want to help others, but in a Behind-the-Scenes role
If you desire to make a positive impact in your community or organization but do not want to deal with patients hands-on, that's ok. You may want to pursue an administrative role. With a BS in Health Studies, you can become a leader in various healthcare settings.
4. You need a Flexible Program
The BS in Health Studies offers many classes online in 8-week segments. With the convenience of online offerings, this allows you to maintain a current job, personal obligations, and provides for a more balanced academic load while pursuing your career goals.
5. You will be Employable
Healthcare is one of the fastest growing sectors which means that those with healthcare degrees have excellent graduate employability rates because they are in high demand.
6. You will gain key Transferrable Skills
Written and oral communication
Leadership
Teamwork
Time management
Report writing
Problem Solving
7. You will gain Professional Experiences
Health Studies courses usually involve lots of practical experience for work-based learning. Many students complete an internship and take part in community events and volunteer opportunities with local organizations. Health Studies courses are designed with careers in mind.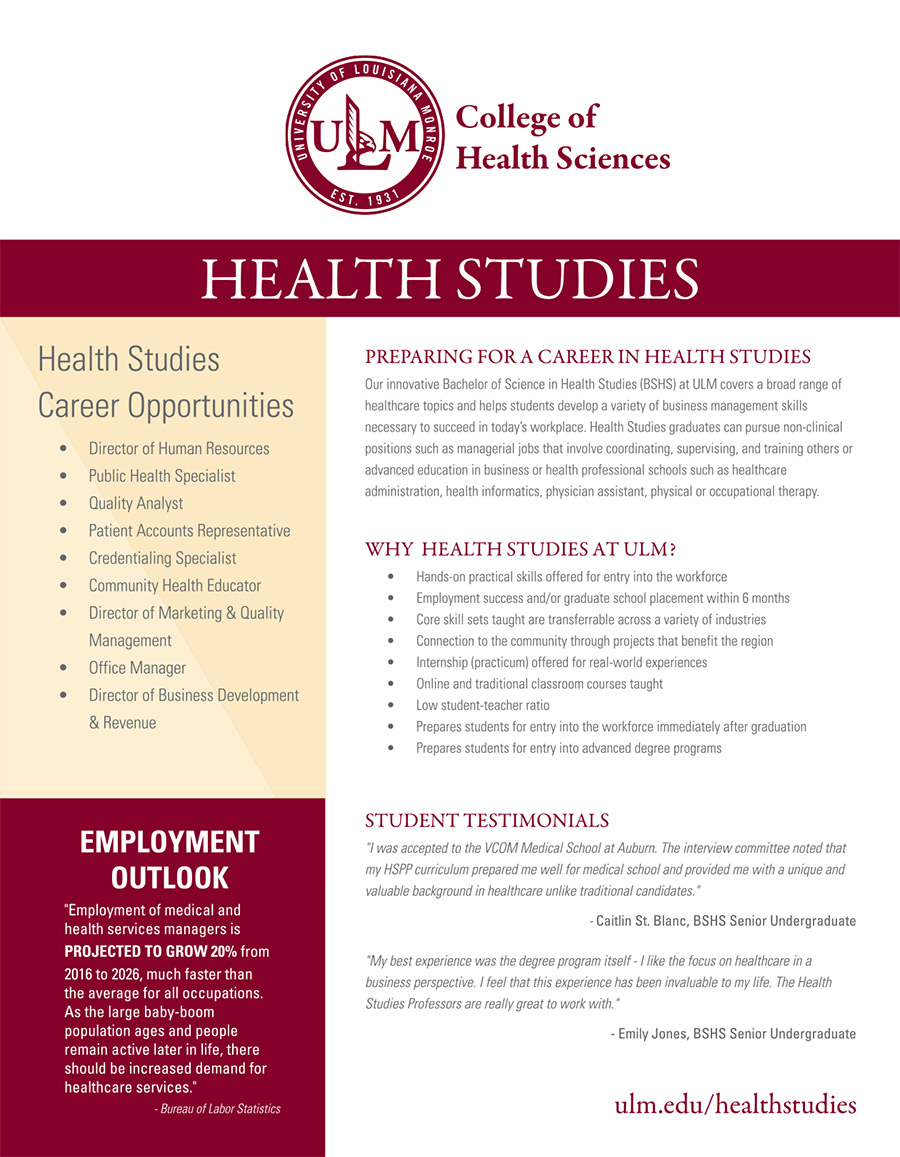 Download More Information
Health Studies Career Opportunities
• Admissions Coordinator
• Community Health Educator
• Director of Human Resources
• Director of Marketing and Quality Management
• Director of Quality Assurance
• Health Educator
• Office Manager
• Public Health Specialist
• Patient Accounts Representative
• Patient care advocate
• Pharmaceutical Salesperson
• Quality Analyst
• Quality Management Coordinator
• Wellness Coordinator