Preparing for PREP
Before PREP
There are several things you should take care of before coming to Freshmen Orientation. Please make use of the checklist below.
• Students not yet admitted to the university are not eligible to reserve a spot at PREP. Complete and submit the Application for Admission with the appropriate application fee. 
• Submit a completed Proof of Immunization form.
• Request that ULM receive your official ACT scores (ULM ACT code 1598).  All out of state residents must request that their High School send ULM a copy of their official transcript.  Unaccredited Louisiana High School and Home Study students must submit an official transcript. 
• If you plan to live on campus in the fall, complete and submit the Housing Application with the appropriate application fee.  All housing application materials will be sent to students after admission to ULM. 
• If you are required to live on campus, per the University of Louisiana System policy, please make sure you have taken care of all of your paperwork.
• Complete the FAFSA to apply for financial aid.  Regardless of income, every applicant can receive some type of financial assistance.  FAFSA is also the form to complete for TOPS. 
• Register for PREP
---
What to Bring
Wear comfortable clothes and shoes
Bring an umbrella just in case 
Those students staying on campus overnight should bring a pillow, sheets, towels, toiletries, and a $50 deposit check for the room key. 
Reminders….
Plan to arrive by 8:00 a.m. for check-in to PREP.  The opening Welcome begins at 9:30 a.m.
Only parents/guardians and siblings who register for the Parent Orientation Program (POP) are allowed to attend orientation programs. Guests are not permitted due to the nature of the program. 
Guests are not permitted in the university residential community.
---
Where to Stay
Housing is available during PREP (and POP) in University Commons & University Suites. (see directions below)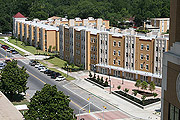 All students requesting on-campus housing while at PREP will be assigned a roommate. You may request a specific roommate when filling out the registration form. 
The cost for housing during PREP is $30.00 per student, per night.  The cost for housing during POP is $60.00 per room, per night.  All housing fees are non-refundable. (Please note an additional $50 room deposit is due at the time of check-in)
There is not a separate registration form for housing at PREP (or POP). Please indicate that you will need housing on the PREP (or POP) registration form. 
List of items to bring if you are staying on campus during PREP or POP:
Pillow
Sheets (twin)
Towels
Toiletries
Alarm Clock
$50 room key deposit (we will only accept deposits in the form of a check)
---
Directions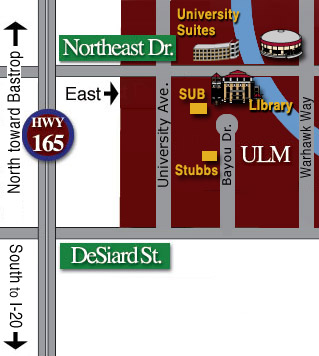 Parking for PREP/POP will be designated by various parking signs. Please be sure to bring the parking pass included in your confirmation packet.
Note: Northeast Drive runs through the center of campus. 
Helpful links:
• General driving/visitor information