The ULM Hawkline consists of up to 14-22 dancers. This number may fluctuate from year to year given the needs of the team. The ULM Hawkline performs jazz, hip hop, and pom dances throughout the year for different functions. Hawkline performs on-campus at many events including but not limited to football games, basketball games, the Miss ULM Pageant, Holidays at ULM, and pep rallies, as well as special appearances throughout the community. Hawkline practices on Monday and Wednesday afternoons, as well as 6:00 AM workouts on Tuesday and Thursday mornings during the Fall and Spring Semesters. The Hawkline may also attend summer camp with NDA, as well as ProAction Dance if funds are available. The Hawkline may also participates in the American Collegiate Championship in Denton, TX in March and/or NDA in Daytona, FL in April if funds are available.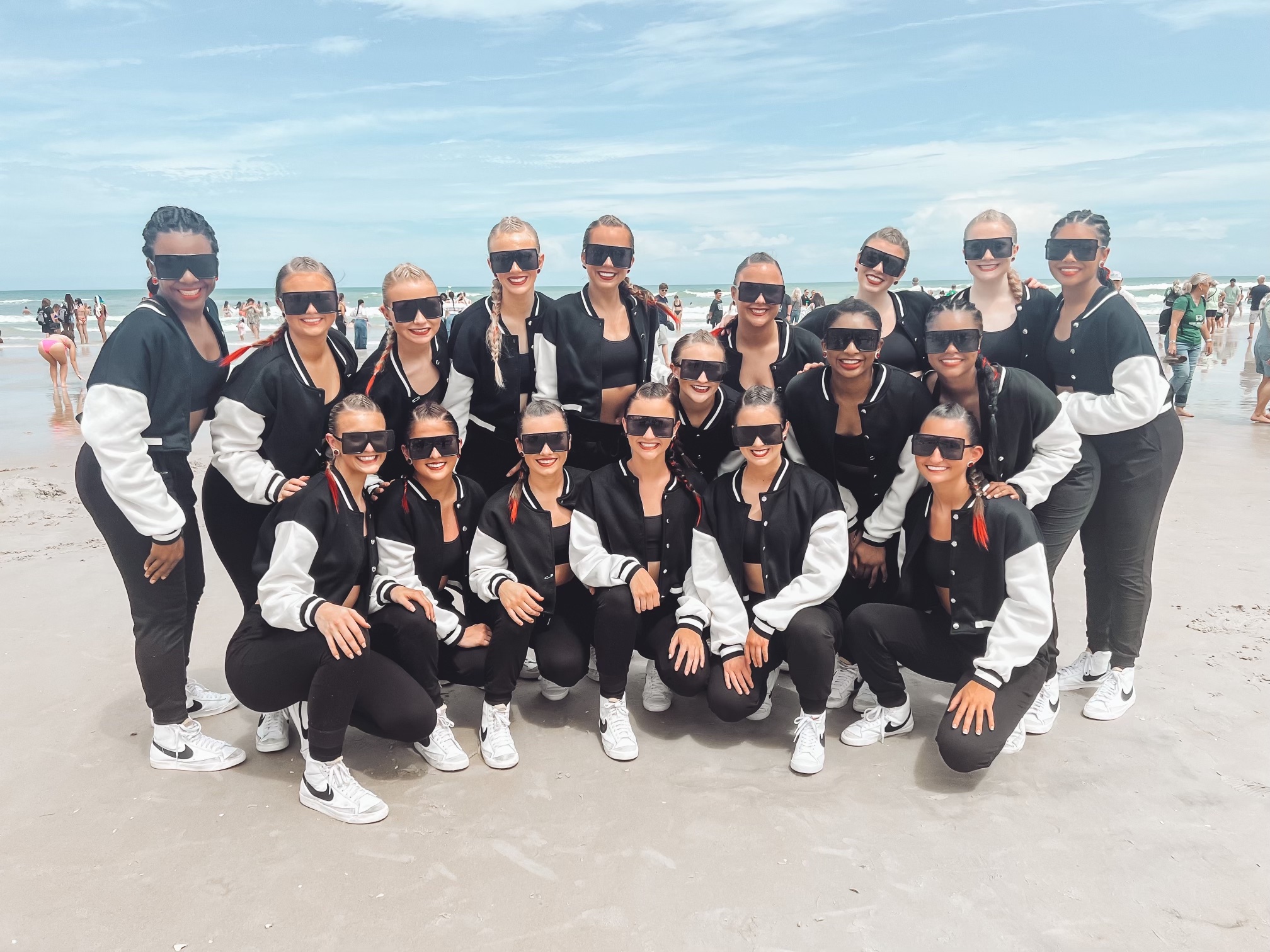 Hawkline competed in the 2023 NDA Competitiom in Daytona Beach. These incredible athletes competed in D1A and place 5th overall. Hawkline competed againist other D1A schools like BYU, FSU, Indiana University, Boise State University and more. 
Why be on the ULM Hawkline?
Compete at NDA College Nationals in Daytona, Florida!!
 Compete at American Dance/Drill Team Nationals in Denton, TX
 Cheer and Dance at Sunbelt Conference Tournament
 Between $1000-$1,500 a year in scholarships
 Out-of-State tuition waived
 Priority Class Registration
 Personal Trainer
 Paid Travel Expenses
 Athletic Trainer and Doctor
Congrats to the new 2023 - 2024 Hawkline!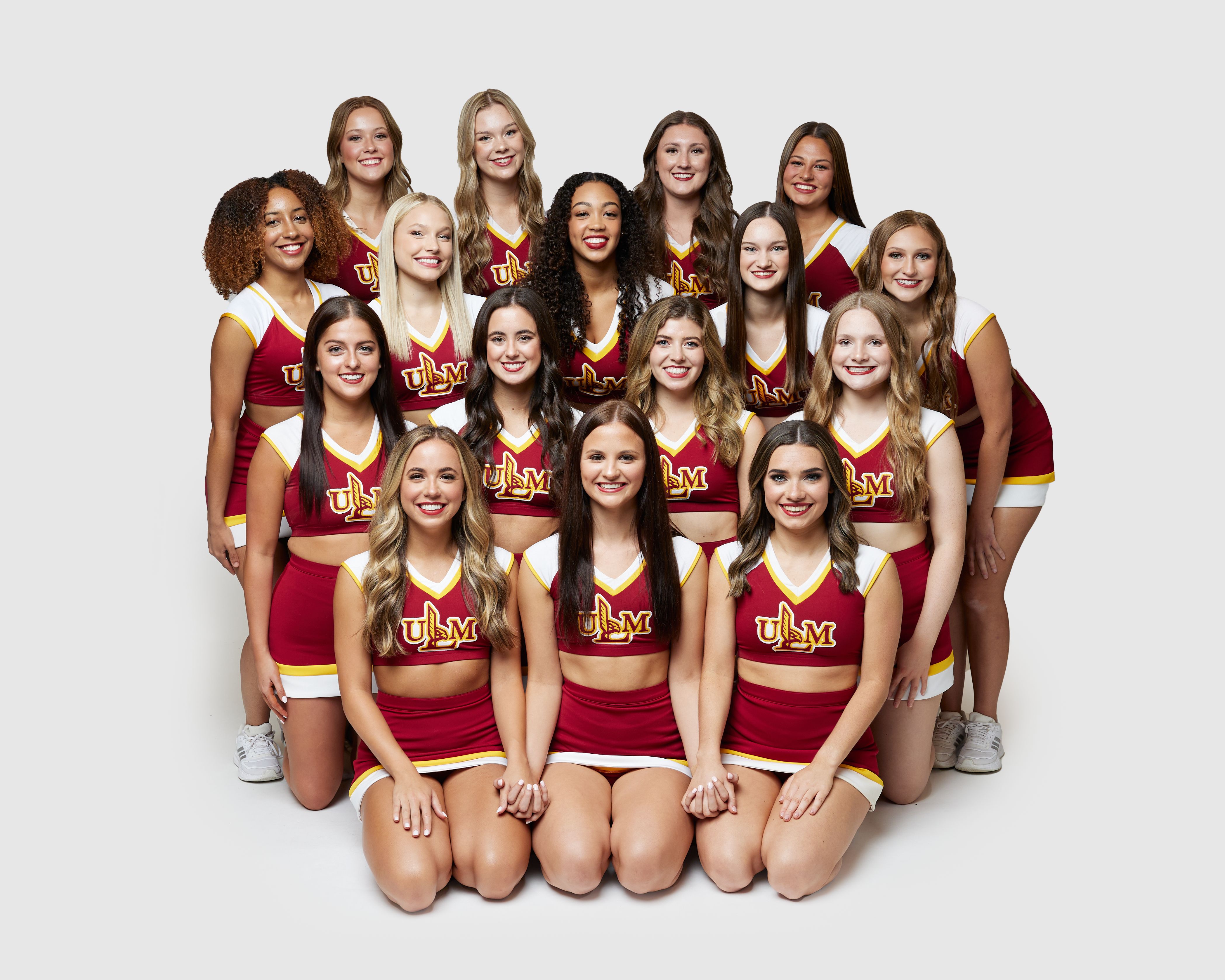 ULM Hawkline Tryout Requirements 
Required Technical Skills:
Splits (right and left)
High Kicks (two 8 counts)
Double and Triple Pirouette (right and left)
Leap (right and left)
Calypso
Headspring and kip up

Rubber band and/or ariel preferred but not mandatory.
 Additional Tryout Requirements:
Copy of front and back of Health Insurance Card
Copy of Driver's License/State Issued ID
Copy of ULM Acceptance Letter
Copy of transcript providing evidence that your cumulative GPA is a 2.5 or higher
One letter of recommendation from a former cheer coach/trainer
Current head shot photo (no selfies and photo will not be returned)
$30 application fee (card, check or money order made out to

 

ULM Hawkline)
Completed tryout packet 
Bring packets to tryouts or mail them to the following address:

Kayla Attaway

Activity Center

210 Warhawk Way

Monroe, LA 71209
Follow the ULM Hawkline on Social Media for updates!
---
For more information, contact:
Kayla Attaway
Hawkline Coach
 Department of Rec Services | Division of Student Affairs 
 
attaway@ulm.edu