Recognized Student Organizations (RSO's)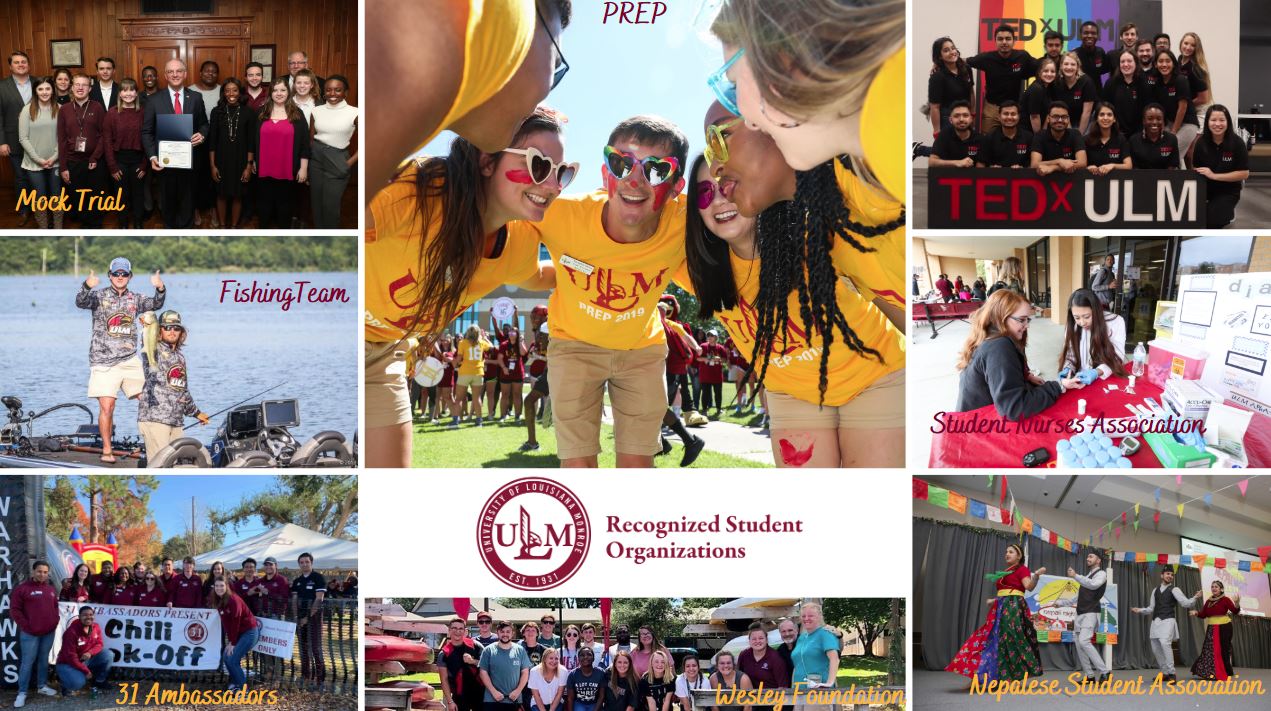 -Welcome RSO's!!
Whether streamlining for membership recruitment or developing your executive leadership or providing guidance throughout your event planning process, ULM Student Life is here for you!
We thank you for your continued support as an organization of ULM. Your organization and its members provide leadership for the university every day - leadership for our 120-plus student organizations; for our many groups, committees, and campus activities; in various campus departments and divisions; as well as in the classroom.
Student Life truly believes that your positive actions greatly add to the status and quality reputation that ULM enjoys today and that your involvement in student organizations plays a great role in the well-rounded college experience ULM offers. Please use this handbook as your organization's go-to guide as you venture through various projects throughout the year.
Student Life looks forward to working with you to make this a fantastic year!
-Student Organization Leaders,
Recognized Student Organizations (RSO's) provide a valuable service to the University community by promoting leadership development, community spirit, activism, public service, and social and cultural interactions. Each year the more than 120 RSO's sponsor seminars, lectures, debates, cultural and social events. These programs allow ULM students to meet and interact with local, state, and nationally renowned scholars, artists, politicians, academicians, and other professionals.
RSO members spend countless volunteer hours participating in service projects for campus and the community. In the course of planning and implementing organizational activities, RSO's need information on the use of University facilities, budgeting, planning techniques, and many special arrangement concerns. The Student Organization handbook is designed to provide an easily used reference guide for members of recognized student organizations. It contains information regarding University services and several suggestions for student leaders to use in making their organizations more productive and effective.
University recognition of a student organization does not imply control of, support for, or agreement with the organization's purposes, goals, or philosophy. Participation in student organizations is voluntary.
This handbook does not provide answers to all of an organization's questions or outline special cases, but it is a helpful reference guide. Student leaders who use this handbook will have some definite ideas and suggestions for improving future editions. We encourage you to share those with us.
Congratulations to all RSO's for prior accomplishments and best wishes on future events. The Office of Student Engagement looks forward to working with you and your organization. It is our hope that you will strive for excellence and be recognized for outstanding leadership and dedication to service at the annual Student Affairs Awards Night during the Spring semester.
Good luck and GO Warhawks!
-RSO Sponsored Events:
---
 
- the above events & information via https://wingspan.ulm.edu/ -