Center for Business and Economic Research
The Center for Business and Economic Research (CBER) provides reliable, timely, and accurate economic data that is critically important to the development of our region. Quarterly, CBER participates in an Accra-Cost of Living Survey so our regional cost of living can be compared with the rest of the country.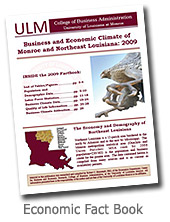 This data along with other pertinent economic data is published in the Northeast Louisiana Fact Book on an annual basis. The Fact Book has become a valuable resource for business leaders and economic development professionals throughout the state.
CBER annually publishes the Louisiana Fact book, which is a comprehensive compilation of data and some analysis of the demography and economy of Northeast Louisiana.
Each spring, the ULM College of Business along with LA Tech's College of Business host a Business Outlook Summit during which much of the data and analysis from the Fact Book and Accra-Cost of Living Survey are presented and discussed with leaders throughout the region.
All three of the previously mentioned sources are made available for public consumption at no cost. Resources provided through CBER have played a critical role in developing the region, such as provided necessary data and analysis for relocation decisions, reducing costs of financing, and business expansions.