October 24, 2013: Ben and Jerry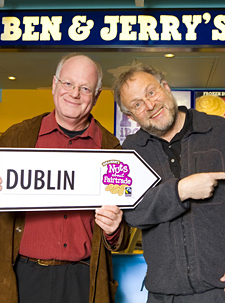 Since 1978, Ben Cohen and Jerry Greenfield have combined unique ice cream flavors such as the potato chips and fudge creation called "Late Night Snack," inspired by Jimmy Fallon and his Late Night talk show.
This flavor, along with many others, helped catapult the entrepreneurs—more popularly known as Ben & Jerry's Ice Cream—to the forefront of people's minds and freezers. This fall, the duo will tell their story at the University of Louisiana at Monroe.

Ben and Jerry are the 2013 ULM Lyceum Series speakers. Their presentation, which is open to the public, will begin at 7 p.m., Thursday, Oct. 24, in Brown Auditorium.

In 2000, the entrepreneurs sold their original $12,000 investment business for $325 million. ULM President Dr. Nick J. Bruno views the visit as an opportunity to highlight the positive aspects of business ownership.

He said, "In a region where small businesses thrive, it is a great opportunity to host two men whose small business evolved into a multi-million dollar enterprise. Ben and Jerry are business icons, and we are excited to have them speak to students and the community about their lives, business, and triumphs."

Tickets will be available for purchase at ulmtickets.com, at a later date. Student tickets cost $2 with a ULM ID. Tickets for the general public are $25, and patron party tickets are $50.

On the day of their arrival, Cohen and Greenfield will conduct a master class for business majors, followed by the Patron Party, at 5 p.m., in the ULM Library Conference Center.

ULM Vice President of Student Affairs Dr. Wayne Brumfield said, "We are honored to host two successful businessmen for this year's Lyceum. Their expertise in entrepreneurship will help our students succeed and learn by these prominent examples."

More about Ben Cohen and Jerry Greenfield
Ben Cohen and Jerry Greenfield first met in junior high as the "slowest, fattest kids in gym class" in Merrick, New York and remained close friends throughout their high school years.
In 1977, the two reunited to fulfill their shared dream of running a food business after Jerry was rejected by the medical schools he had applied to and Ben came to the realization that no one was going to buy his pottery. One year and a $5 Penn State correspondence course in ice cream making later, they opened their first Ben & Jerry's Homemade ice cream parlor in Burlington, Vt. in a renovated abandoned gas station.

Their unique flavors and community-oriented approach to business made "Ben & Jerry's" common lingo in Vermont. The duo's incorporation of large chunks of chocolate, fruit, candy and other tasty ingredients is due in large part to Ben's inability to taste and reliance upon other sensory features.

Ben and Jerry believed good times and good ice cream should be had by all and hosted a variety of events, such as an autumn "Fall Down" Festival, a free outdoor movie festival, and Free Cone Days to celebrate their yearly anniversary.

In 1986, Ben & Jerry's launched its "Cowmobile," a remodeled mobile home used to distribute free scoops of Ben & Jerry's ice cream, which was driven and served by Ben and Jerry themselves as an inventive marketing tactic.

The growth of their company resulted in the increase in job duties for Ben and Jerry. Ben, the original ice cream scooper and tester, added truck driver, marketing director, salesperson, and president of the company to his job titles. Jerry handled everything from distribution to orientation to employee motivation along with making all the ice cream. There are currently over 600 ice cream shops globally.

Ben and Jerry offer the ultimate insider's guide to creating a values-led business that makes money while benefiting the entire community in their best-selling guidebook "Ben & Jerry's Double-Dip: How to Run a Values Led Business and Make Money Too."

Considered the models for American business success, Ben and Jerry have been recognized for fostering the social consciousness of their company.
The U.S. Small Business Administration named them U.S. Small Business Persons of the Year in 1988, and in the same year they were awarded the Corporate Giving Award by the Council on Economic Priorities for donating 7.5 percent of their pre-tax profits to non-profit organizations through the Ben & Jerry's Foundation.
They also received the James Beard Humanitarians of the Year award in 1993 and the Peace Museum's Community Peacemakers of the Year award in 1997.