April 7, 2009: Lisa Ling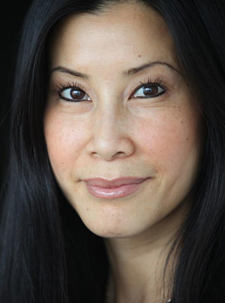 Lisa Ling is the host of "National Geographic Explorer" and former co-host of "The View."
Since joining Explorer as host in December 2002, Ling has covered the looting of antiquities in war-torn Iraq, investigated the increasingly deadly drug war in Colombia, examined the complex issues surrounding China's one-child policy and journeyed more than 1,600 feet to the bottom of the Atlantic Ocean in a high-tech submersible in search of gold treasure.
In the 2005 season of Explorer, Ling explored the phenomenon of female suicide bombers in Chechnya and Israel's occupied territories and the hidden and dangerous culture inside American prisons.
Prior to travelling the globe for Explorer, Ling was known for revealing her "view" of the world to millions of Americans as co-host of Barbara Walters's hit daytime talk show, "The View," where she shared no-holds-barred opinions on current events and everyday issues.
Ling, who hosts "Who Cares About Girls" on the Oxygen Network, has been working in television for 15 years. At age 16, the Northern California native hosted "Scratch," a nationally syndicated teen magazine show. Ling moved on to become one of the youngest reporters for Channel One News, a network seen in middle and high schools across the country.
By the age of 25, Ling was Channel One's senior war correspondent, visiting violent hotspots around the globe. In the field, she hunted down cocaine processing labs, reported on refugee crises and shared tea with the Dalai Lama. All told, Ling reported from more than two dozen countries, including Afghanistan, Iraq, Colombia, Algeria, Cambodia, Vietnam, China, Japan, India and Iran.
Her position as a role model for today's youth is one she embraces. In 2001, she hosted the television special, "Teen People's 20 Teens Who Will Change The World," and her incredible footage shot following the Taliban's takeover in Afghanistan helped provide insight for "The Day it All Changed," a teen forum she lead for the WB Network.
Ling's hard work continues off-camera: She serves as a contributing editor for USA Weekend and has produced eight documentaries for PBS, several of which won awards. In April, 2001, she fulfilled her late-Uncle John's dream by running and completing the Boston Marathon—with a time of 4:34—and raising money and awareness for pediatric cancer and the "Ali & Dad's Army" foundation. She is also the co-author of the book "Mother, Daughter, Sister, Bride: Rituals of Womanhood."