March 14, 2005: Doris Kearns Goodwin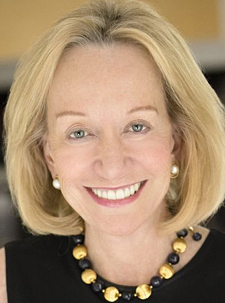 Doris Kearns Goodwin is recognized as one of the most recognized historians of the day — providing trenchant, informed and enthralling commentary on current events by demonstrating how history has answered similar questions. With a deft wit and an uncanny ability to weave stories that put you "right in the room" as history occurs, Goodwin offers extraordinary insight into the lives of the leaders who have shaped the United States.
Author of several best-selling books, Goodwin won the Pulitzer Prize for "No Ordinary Time: Franklin and Eleanor Roosevelt". As well, she penned a touching memoir, "Wait Till Next Year", about a love of baseball she shared with her father.
As regular commentator on "Hardball with Chris Matthews" and "Meet the Press" and a contributor, both on and off the air, to the PBS documentaries "LBJ", "The Kennedys", "FDR and Baseball", Goodwin offers historical perspective on political, media and current events.
An equally gifted historian and storyteller, Doris Kearns Goodwin illustrates lessons in leadership relevant to today's issues and headlines from some of the country's greatest figures.