December 2, 2006: Ben Stein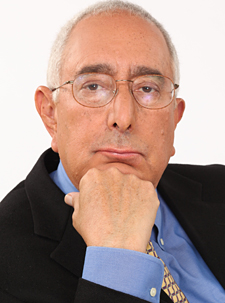 Ben Stein — presidential speechwriter, Emmy Award winner, lawyer, teacher, actor, comic, economist, father, novelist and financial expert — is probably the closest any man comes these days to being a true renaissance man.
His financial and economics work was cited in the efforts of the recent Nobel prize winner in Economics, George Akerlof. He is also the host of the long running comedy quiz show on Comedy Central, Win Ben Stein's Money, a show that has won seven Emmies.
He has written hundreds of thousands of words about financial fraud and investment policy, but two words made him a household name: "Bueller, Bueller" and "Anyone, Anyone?", from his iconic role in "Ferris Bueller's Day Off."
He has written novels that the New York Times describes as "stunning," but what you have probably heard him talk about recently are "dry eyes, red eyes, and clear eyes." He worked and demonstrated and struggled for voting rights for African Americans, and he also was a speechwriter for Richard Nixon and for Gerald Ford. He introduced the world to complex concepts of the politics of culture, but he also introduced the world to Jimmy Kimmel and made possible The Man Show.
Stein graduated with honors from Columbia University in economics in 1966. Four years later, he graduated from Yale University Law School as valedictorian.
As a writer, Stein has written speeches for Presidents Richard Nixon and Gerald Ford. He has authored books on a variety of topics, including economics.
But he is best known for his movie roles and game show host career. According to Wikipedia, an online encyclopedia database, in the movie "Ferris Bueller's Day Off," Stein used his economics background in the movie and gave a real, unscripted lecture in one scene. The only scripted lines were when he called attendance.
Amongst other work, he did a series of commercials for Clear Eyes, making their advertising unusual and memorable. Stein is very interested in the American Civil War and has worked, demonstrated, and struggled for voting rights for African-Americans.