February 2, 2012: Nicholas Sparks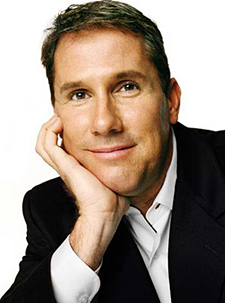 Nicholas Sparks, prolific author of 17 novels, seven of which have been adapted as films, spoke Feb. 2, 2012 at the University of Louisiana at Monroe's Lyceum Series.
President Nick J. Bruno said, "At ULM, we strive to provide our university family and our greater community with unique opportunities to hear inspiring stories such as the one Nicholas Sparks has to tell. Hard work and dedication are two of the core values we instill in our students, and this author's story illustrates those values well."
Students and guests alike benefitted from Sparks' experience and tenacious example – he went from rejection to the satisfaction of seeing his works touch millions of people around the globe.
On the day of his arrival, Sparks conducted a master class at 3 p.m. followed by a Patron Party, which began at 5:30 p.m. The 7 p.m. lecture, titled "An Evening with Nicholas Sparks," was followed by a book signing.
More about Nicholas Sparks
In 1994, rejected from both publishers and law schools, Nicholas Sparks was a job-jumping salesman who wrote in the evenings. In early 1995, and against all odds, his manuscript was discovered in the slush pile. By October, Warner Books famously paid a million dollars for an unknown story about a notebook. The rest, as they say, is history.
Now with almost 80 million copies of his books in print, literary sensation Sparks is the author of 16 New York Times #1 bestselling books.
Born in Omaha, Neb., Sparks graduated valedictorian of his California high school in 1984, and received a full track scholarship to the University of Notre Dame.
After breaking the Notre Dame school record as part of a relay team in 1985 as a freshman, he was injured and spent the summer recovering.
During that summer, he wrote his first novel, though it was never published.
He majored in business finance and graduated with high honors in 1988.  Sparks wrote his second novel in 1989, though, again, it wasn't published.
He worked a variety of jobs over the next three years, including real estate appraisal, waiting tables, selling dental products by phone, and started his own small manufacturing business which struggled from the beginning.
In l994, at the age of 28, he wrote "The Notebook" over a period of six months. In October 1995, rights to "The Notebook" were sold to Warner Books. It was published in October 1996, and he followed that with 15 novels, including "Message in a Bottle" (1998), "A Walk to Remember" (1999), "Nights in Rodanthe" (2002), "Dear John" (2006), and "The Last Song" (2009), to name a few, all with Warner Books/Grand Central Publishing.
All of his books were domestic and international best sellers, with almost 80 million copies sold worldwide, translated into more than 45 languages. His newest book, "The Best of Me," was released in October 2011.
Coupled with the undeniable success of his many books, the movie adaptations of Sparks' books have become some of the most iconic romantic feature films for a whole new generation.
Beginning with "Message in a Bottle" in 1999, Sparks' novels continued to grace the silver screen with adaptations of "A Walk to Remember"(2002), "The Notebook" (2004), and "Nights in Rodanthe," starring Richard Gere and Diane Lane (2008).
"Dear John," starring Channing Tatum and Amanda Seyfried, and "The Last Song," starring Miley Cyrus and Greg Kinnear, were released in 2010 to great box office success.
Warner Brothers snapped up the rights to "The Lucky One," starring Zac Efron, which has a release date of Spring 2012.
At the podium, Sparks takes audiences deeper into the sleepy towns and poignant relationships that ignite the pages of his romantic novels.
Drawing large and appreciative crowds of fans, Sparks in person displays great storytelling, a unique voice and a charm that connects through the power of words. His relatable talks weave his own personal story of hard work, rejection, anxiety, and triumph for inspiring authors—and romantics — everywhere.
Sparks contributes to a variety of local and national charities, and is a major contributor to the Creative Writing Program (MFA) at the University of Notre Dame. Along with his wife, he founded The Epiphany School in New Bern, N.C., and he spent five years coaching track and field athletes at the local public high school.
Sparks lives in North Carolina with his wife and family.