November 9, 2004: Bill Cosby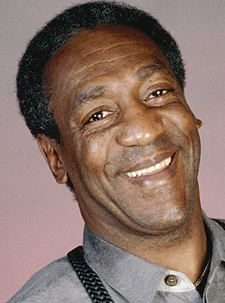 Bill Cosby is, by any standards, one of the most influential stars in America today. Whether it be through concert appearances or recordings, television or films, commercials or education, Bill Cosby has the ability to touch people's lives. His humor often centers on the basic cornerstones of our existence, seeking to provide an insight into our roles as parents, children, family members, and men and women.
Without resorting to gimmickry or lowbrow humor, Bill Cosby's comedy has a point of reference and respect for the trappings and traditions of the great American humorists such as Charlie Chaplin, Will Rogers, W.C. Fields and Groucho Marx.
Cosby began his career as a stand-up comic, winning several Grammies for comedy albums. Cosby received Kennedy Center Honors in 1998 and the Presidential Medal of Freedom in 2002.
His breakout television role was in "I Spy", starting in 1965. Cosby won two Emmy Awards for his portrayal of an undercover CIA agent; it was also the first time an African-American actor starred in a weekly dramatic television series. He then appeared in a series of shows including: "The Bill Cosby Show", "The New Bill Cosby Show", the animated "Fat Albert and the Cosby Kids", "Cos", and "The Cosby Show."
He has producer, writer, director and even composer credits on many of his projects. He has also written several humorous books about different aspects of life, based on his stand-up comedy such as "Fatherhood and Love and Marriage. In fact, Fatherhood and Time Flies were the best selling non-fiction hardback books of 1986 and 1987, respectively.
He earned a doctorate in education from the University of Massachusetts in 1977. He has attempted to integrate education with television in some projects and is now a leading educational philanthropist.