March 9, 2006: Robert Kennedy, Jr.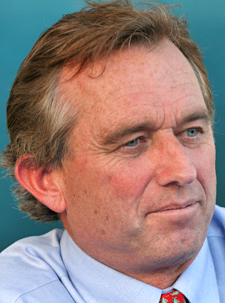 Robert Kennedy, Jr. was named one of Time Magazine's "Heroes for the Planet" for his successful aid to the environmental group Riverkeeper in the fight to restore the Hudson River.
Kennedy serves as chief prosecuting attorney for Riverkeeper; president of Waterkeeper Alliance; senior attorney for the Natural Resources Defense Council; and a clinical professor and supervising attorney at Pace University School of Law's Environmental Litigation Clinic.
Among Mr. Kennedy's published books are the New York Time's bestseller "Crimes Against Nature" (2004); "The Riverkeepers" (1997); "Judge Frank M. Johnson Jr.: A Biography" (1977); and "St. Francis of Assisi" (a children's book). His award-winning articles have been featured in anthologies of America's Best Crime Writing, Best Political Writing and Best Science Writing.
In "Crimes Against Nature", Kennedy charges that the George W. Bush administration has taken corporate favoritism to a level that threatens the very foundation of American health, national security and democracy. "Crimes Against Nature" is recommended to both Democrats and Republicans—including farmers and fishermen whom Kennedy represents in lawsuits against polluters.
After graduating from Harvard University, Kennedy studied at the London School of Economics and received his law degree from the University of Virginia Law School. Afterwards, he attended Pace University School of Law, where he achieved a master's degree in Environmental Law. Kennedy's career includes the position of former assistant district attorney for New York City.
Kennedy has focused on environmental issues across the Americas. He has aided several indigenous tribes in Latin America and Canada and successfully negotiated treaties protecting traditional homelands. He is credited with leading the fight to protect New York City's water supply. He has prosecuted sewerage treatment plants to comply with the Clean Water Act.
Kennedy takes special care to promote municipal and government responsibility in environmental areas. He has contributed much to uncovering the mercury/autism controversy. Research shows that there has been a significant increase in the number of autistic children in the United States due to vaccinations containing a mercury additive.
He is also a licensed master falconer and a white-water paddling enthusiast.