March 31, 2015: George Takei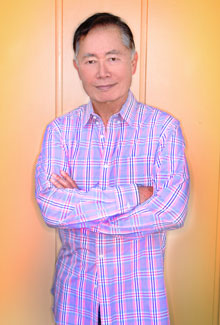 Mr. George Takei, Sulu of Star Trek and social media guru, will speak at ULM in Brown Auditorium on March 31 at 7 p.m. One of the topics covered will be his time growing up in a Japanese internment camp less than 100 miles from Monroe. A Patron Party will be held at 5 p.m. on the 7th floor of the ULM Library, the number of patron tickets are limited.
Takei has a large social media fanbase with over 9 million combined Facebook and Twitter followers. His career, which has spanned over five decades, includes an array of roles in television, film, and on the Broadway stage. More recently, however, Takei has been heralded for his social activism, screenwriting, and media influence. 
According to his biography, from age 4 to 8 Takei—who was born in the United States—was unjustly interned in two United States internment camps during World War II because of his Japanese heritage. One of the camps was located in southern Arkansas, about 100 miles from ULM.
Photo courtesy George Takei
Lyceum homepage photo courtesy Victoria Will